If you're searching for a marketing option that's both versatile and cost-effective, retractable banner stands are the solution you need. These stands offer a range of benefits that make them ideal for businesses of all sizes, from small startups to large corporations. Understanding some of the key advantages of retractable banner stands can show you why they're worth considering for your next marketing campaign.
Portability
At trade shows, events, and exhibitions, you need a lightweight, compact advertising solution that allows for easy portability and quick set-up and pack-up. Retractable banners are a convenient and hassle-free way to display your brand.
You don't need additional structural support from a frame or booth to display your banner. The vinyl banner extends from and rolls up neatly into the base, and a flexible support pole attaches to the back for added stability. At Comix Well Spring, our retractable banners also come with a complimentary carry bag with a shoulder strap to transport your marketing materials easily, whether you're exhibiting at a local trade show or traveling to an event in another city.
Durability
Retractable banner stands are made from sturdy materials designed to withstand frequent use and handling. Unlike paper or fabric banners, vinyl banners are resistant to tears, punctures, and water damage, ensuring that your message stays visible for longer. This makes retractable vinyl banners a smart choice for businesses looking for a reliable advertising solution that will last for numerous events.
Comix Well Spring retractable banners are crafted from heavy-duty 13 oz. vinyl, suitable for indoor or outdoor events.
Versatility
Retractable banner stands are a flexible and adaptable solution that can be adjusted to fit different graphics sizes, making them a versatile option for various marketing purposes. This makes them an excellent marketing choice for promoting a new product during a launch, showcasing your company's services at an industry event, or simply posting outside your storefront to create brand awareness.
Cost-Effective
Compared to other types of display solutions, such as pop-up displays or custom-made exhibits, retractable banner stands are relatively inexpensive and offer excellent value for money. And, unlike disposable materials, such as paper or cardboard, vinyl banners are durable and can be used multiple times, making them an excellent long-term investment.
With various sizes and styles available, you can find a retractable banner stand that fits your budget and marketing needs.
Easy Set-Up
The compact design and retractable mechanism mean these stands are easy to assemble and can be set up in minutes without tools or special equipment. You can quickly set up your booth, stand, or display, even if you're working solo.
To set up the banner, find a suitable location to place the banner stand. The stand should be placed on a level surface, and if you're using it outdoors, it should be protected from the elements.
You will need to extend the stand's feet to provide stability. Then, use the mechanism to extend the banner to its full height and secure it with the provided support pole.
Eye-Catching Display
Retractable banner stands use high-quality printing to create an eye-catching display solution to grab potential customers' attention and help promote your brand or message. With vibrant, sharp, long-lasting graphics, clear text, and a professional appearance, retractable banner stands are an excellent way to get noticed and generate brand awareness.
Comix Well Spring vinyl retractable banners display your branding graphics in bold, saturated colors on a 33.5" x 80" area to help your products stand out from the competition.
Space-Saving
Retractable banner stands can be easily stored when not in use, making them a space-saving solution for businesses with limited storage space. The stand's small footprint makes it an excellent advertising option for small offices, storefronts, and compact trade show booths. This leaves more space to display your product and gives potential customers plenty of room to engage and interact with your booth.
Customizability
Customized retractable stands feature different graphics, logos, and text, allowing businesses to create a unique, personalized look that reflects their brand. Whether showcasing your products, promoting a new service, or simply building brand awareness, retractable banner stands offer a highly customizable solution.
Versatile usage
Retractable banner stands can be used in various settings, such as trade shows, exhibitions, retail spaces, and lobbies. Whether you're looking to reach out to potential customers, promote your brand, or simply create a professional image, retractable banner stands are a versatile solution that can be adapted to fit your needs.
Professional Appearance
Retractable banner stands have a sleek and modern design that creates a polished and sophisticated image to impress your customers and clients. Because the stand's design and content are entirely customizable, you can create a display that accurately reflects your brand image, helping build your brand and establish a professional reputation.
Easy to Update
If your business needs to update its marketing message or graphics, you can easily print new graphics and swap them out on the retractable banner stand. This makes retractable banner stands a flexible and adaptable solution that can be updated as needed without the need for expensive reprints or replacements.
Easy to Store
Retractable banner stands are compact and lightweight, making them easy to store when not in use. This saves businesses valuable storage space and allows them to keep their displays organized and ready for the next event.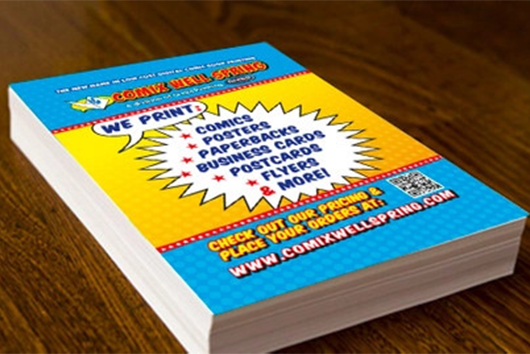 Promote Your Brand With Retractable Banners From Comix Well Spring
Retractable banner stands offer a range of advantages that make them an ideal choice for businesses of all sizes. Whether you're looking for a cost-effective, versatile, and professional display solution or want to make a high-impact statement, Comix Well Spring retractable banner stands are worth considering for your next marketing campaign.
Contact us for more information on banners, flyers, and posters to promote your next event, product, or service.