If you have creative ideas ricocheting around your head, there is no better time than the present to start putting pen to paper and take advantage of print-on-demand publishing to turn your graphic novel dreams into a reality.
With lightning-fast turnaround and high-tech equipment, print-on-demand services are the ideal platform for those publishing authors who are just starting. POD services let you print small quantities, focus on quality over numbers, and manage a logical business model.
There are three different, commonly used printing methods: offset, digital, and print-on-demand (POD). Out of these three, POD is an excellent first step for comic book authors and artists; here's why.
Different Printing Technologies
You can print your comic book or graphic novel a few different ways, depending on the quantities and aesthetics you need. Here are three main options if you're starting your printing journey. If you need a flexible and worthwhile method, print-on-demand is your ideal choice.
Offset Printing
The oldest and the most cumbersome of printing methods, when you offset print a comic book, the offset printer engraves a plate for each page you're printing. Because of this added effort and expense, it doesn't make financial sense to have small print runs when you're offset printing.
Digital Printing
This method uses laser technology to mimic the results of offset printing without the tedious methodology. The most vital asset is that, unlike offset printing, you can adjust, update, or modify your comic books at any point, which is impossible with the traditional process.
POD Services
Print-on-demand (POD) services are a fantastic choice if you're looking for a publishing company that will let you adjust your print run according to your expectations.
Maybe you want your noir graphic novel to only be printed in black and white, or you want your adventure tale published in large print for more comfortable reading; these are simple tasks for a POD service.
POD services help reduce your overhead, let you update your manuscripts whenever you like, and save you money in the long run.
Control The Number of Copies
If you choose print-on-demand book printing services, you can make the book publishing journey a whole lot easier. Choose your book format and make sure that details like your book size meet industry standards.
POD also allows you to manage your graphic novel inventory better if sales are unpredictable, making it an excellent choice for first-time authors.
Reduces Your Overhead
White paper, ink, and printing technology cost money. Established printing companies have the resources to maintain a high overhead. But if you're just starting out or if your printed graphic novel is a departure from your everyday interests, you may not want to have to invest a significant amount of cash for a lot of comic books that you may not know how to market.
Update When You Like
If there are aspects you missed (every writer's keenest fear is to find a glaring post-publication typo) or something you want to change about your script, you can use your print-on-demand services for a few sample scripts.
POD is Economical
POD is an excellent choice for small businesses or larger companies that do not have an in-house publication department. If you have a planned event, you can print the number of copies you want, allowing you to allocate your marketing budget better. If you maintain this type of economic focus, your business will benefit.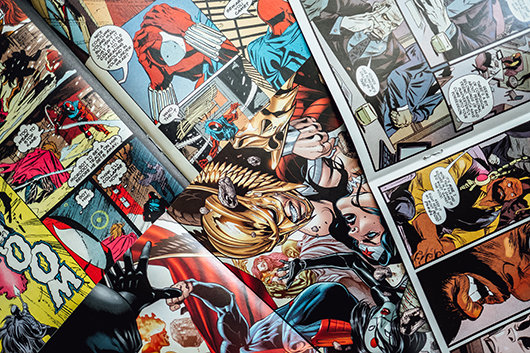 The Takeaway
Print-on-demand services are a savvy business move; the publishing business is always precarious, especially for those just beginning their creative journey. If you want to control the number of copies, keep your overhead low, and update your text often, print-on-demand is the type of printing service you need.
With our resources and high-tech equipment, you can soon hold your published comic book or graphic novel in your hands, whether you print 10 or 1,500 copies. Contact Comix Well Spring for the highest quality services to print your graphic novel or comic.