The modern age brings many innovative services that make your life easier, leaving you with more time to spend on the things you want. Ordering business cards online is one of the boons that come with the digital age.
If you need business cards quickly, it's a snap to order, upload, customize business cards, pick them up the same day, or get them sent to your home or business. Here are some common pitfalls business owners make when ordering online business cards.
Too Little or Too Much Info
One of the most common business card mistakes is overloading the card with too much information or not having enough. Worse yet is if the information is inaccurate.
At the very minimum, you want to state your name, your business' name, any contact information like an email address, a phone number, and any social media handles. Without this crucial information, prospective clients may not be able to find you easily.
There is another side to this scenario. Too much information on your business card can drown out any prospective interest clients may have. They may feel hassled or overwhelmed. A business card is not an exceptionally large piece of real estate; choose wisely what you put on it.
Blurry Pictures
When you hand a prospective client or customer your business card, you want them to be impressed by its high quality. If you include blurry pictures and text that are difficult to read, it does not reflect well on your company.
Text is Too Small
You don't want your customers to have to use a magnifying glass to read the text printed on your business card. Ensure you get the text printed in an appropriate font, so it doesn't reflect poor quality.
Having illegible text that is too small to read connotes that you don't care about your customers, or you haven't thought about their considerations in this design.
Cards Look Boring
Your business card design should reflect innovation and motivation, or whatever other qualities you decide best reflect your company's values.
Many business owners turn to color psychology to help stand out from the crowd. There are innovative designs, like the window-washing business with transparent plastic cards, or minimalist, with just an email address. You should also think about fonts as some are easier to read than others.
The final design should be eye-catching but not overwhelming. Sleek and simple, with bold colors, is always an excellent choice.
Not Minding the Edge
If you fill out your business card with text to the edges like you would a piece of paper, you may end up with abbreviated text. This can distort information that your customers need to contact you, and otherwise hinder attempts to get in touch.
Leave plenty of edge around the vital information at the center of your card. Likewise, make sure that any logo or critical picture is not unnecessarily cropped.
Ordering Too Many
One of the great things about being able to order business cards online is the ability to vet your work. However, one of the biggest mistakes that people make is to order too many business cards in the first run.
If there is a pixelated image or blurry photo, or if some of the contact information is wrong, you won't be able to use the cards printed to represent your company. You will have to get a new batch, so it's better to recycle only a set of 50 than it is one of 500.
Start small, and double-check the cards once they arrive. Your second order can be for a more considerable amount of standard business cards if you're pleased. Small businesses especially don't have a lot of overhead to work with, so it's critical to be mindful of these superfluous expenses.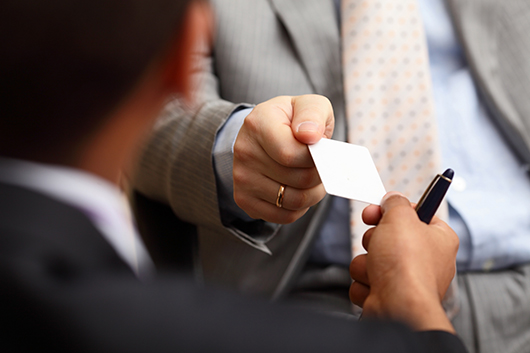 The Final Word
If you put the time and effort into carefully vetting the information, discarding blurry pictures or inaccurate information, and ordering the correct amount, you should be satisfied.
A business card is an excellent marketing tool. It is simple, to-the-point, and dispersible. At Comix Well Spring, we can help you create professional, eye-catching customized business cards in quantities as low as 25. You can choose from standard 16pt or double-thick 32pt cards in an ideal wallet size of 3.5" x 2" in a glossy or matte finish.