You get dressed, proudly sporting your favorite superhero on your t-shirt. Then, you drive to the comic book store, wondering if you'll devour the latest installment of your favorite series before you leave the store or if you'll have the self-control to wait until you are home. But when you get there, disaster strikes. They're sold out.
No problem, you think. Next time I'll preorder it and have it shipped to my house. Now I won't have to leave the house! Everyone wins. But yet again, you are disappointed on release day: shipping delays mean your book is stranded a few states away.
Fortunately, there's an easy solution: digital comic books you can download right to your mobile device, tablet, or computer. So you don't have to leave the house, it won't be sold out, and you won't have to wait for it to arrive.
Whether you are a die-hard collector or a comic book newbie, digital comic books are a convenient way to enjoy your favorite graphic novels and the latest installments of popular comic series.
What Are Digital Comic Books?
Digital comic books are digital copies of traditionally printed comic books. Your favorite trade paperback comic books can be digital, while others are original to the digital format. Webcomics, which are published on websites, is a type of digital comic book.
Is My Favorite Comic Book Hero (or Villain!) Available Digitally?
Comic publishers recognize the advantage of having a digital presence, so publishers large and small have made most of their characters' stories available digitally.
The following publishers have made their works available in digital format:
DC Comics
Marvel Comics
Dynamite
Image Comics
Dark Horse
IDW
Lion Force
Valiant
And more!
What's the Best Way to Read Digital Comic Books?
You can read comics digitally on any device, but the easiest way is to read on a tablet since the screen size is similar in dimensions to that of a standard comic book and the swiping action allows you to turn pages as you would with a traditional print comic.
Whether you read them on your computer, mobile device, or tablet, you'll need to download an app. Some publishers publish their digital comics to be read in any app, while others restrict their comic books to their specific app through DRM.
What Is DRM? How Does It Impact Which Comics I Can Read on My App?
DRM stands for Digital Restrictions Management. DRM is a feature some publishers put on their digital products to maintain control. Publishers use it to protect their copyrighted work, so they know you aren't sharing their properties with others illegally.
This has one distinct disadvantage for you as a consumer: if you read digital comic books from multiple publishers, you may need multiple apps to do it. Everything by one publisher is on this app, while everything from a different publisher is on that app. For a serious collector who reads a wide variety of comic books, this can make tracking your collection a challenge.
Comics that are DRM-free, however, can be read on any app. One of the biggest digital comic books apps is Comixology, an app from Amazon that boasts the largest selection of digital comic books available in one place - 75,000!
How Much Do Digital Comics Cost?
Generally, digital comics cost the same as their physical counterparts, unlike regular ebooks, which tend to be cheaper.
There are two reasons for this:
Converting a print comic to a digital format takes time
It's not a matter of just scanning in pages; files need to be optimized for reading panel-by-panel for smaller screens like mobile devices, and the quality of the artwork needs to be maintained. Plus, it takes manpower to maintain and upload the files to all the different digital comic apps.
Publishers don't want to undercut their brick-and-mortar comic book partners.
It's no secret that bookstores have been struggling lately. The internet has made it easier and more convenient to have books delivered, and comic book stores have felt the same pressure. So by keeping digital comic books the same price as the physical versions, publishers are helping to keep your local comic book store in business.
That cost doesn't come without perks, though. Digital comics don't have ads, so you can think of it like paying a little extra for your favorite streaming service to avoid commercials.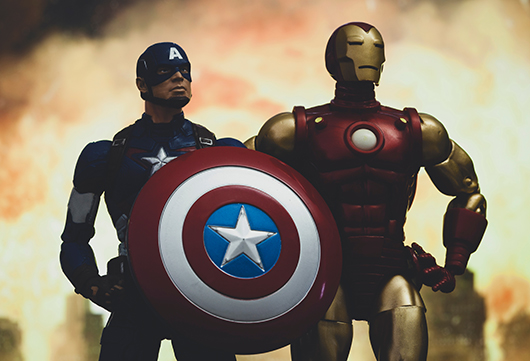 Where Can I Buy Digital Comics?
Comixology is an excellent app for DRM-free comics, and Marvel and DC both offer digital comic book purchases through their websites.
Many publishing companies are also doing physical/digital bundles, so when you buy the latest Spider-Man comic physically, you'll get a code to redeem for a digital copy of it.
Pros of Digital Comics
If you're just getting into comic books, digital comic books are a great way to build your collection quickly and inexpensively, with complete collections and bundles for cheaper.
Digital comics are a great way to test-drive a series before you buy. Many comic book publishers provide First of Series issues for free, so you can see if you want to invest in the story.
Your entire collection fits in your pocket, so you won't run out of reading material.
You can join a subscription service like Marvel Unlimited or Comixology Unlimited to read as much of their back catalog as you want.
While digital comics often start at the same price as physical ones, the price will probably fall slightly if you're willing to wait a few months after the initial release.
Cons of Digital Comics
You can't get a digital comic book autographed when you go to your next con. You'll need to purchase an additional physical copy for your favorite creator to sign.
Digital comics don't include the variant covers that serious collectors value.
You don't own the book. For most apps, the price you pay for a digital comic book gives you access to a copy on their cloud. But that means you can't resell or trade your comic book, and if the provider were to go under, you may not have access to it anymore unless the company sells its digital catalog to another provider.
If your passion is older comics, the selection is limited. Older comics weren't designed to be viewed on digital devices, so they can be harder to read in digital format. Plus, original copies are hard to track down, so publishers haven't been able to increase their catalog of comics from 1930-1960 as fast as they have with more recent publications.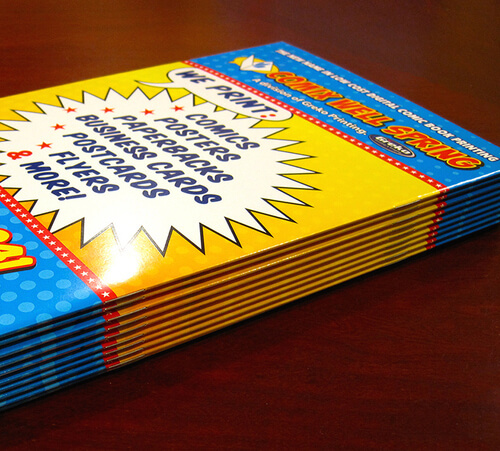 Digital Comics Offer Easy Entry into the Comic World
Digital comic books aren't just for avid readers! They also offer an excellent way for new comic developers to enter the market.
If you're currently a digital-only comic designer, Comix Well Spring can help you turn it into a printed masterpiece. Our technology is specialized for comic books, so your work will have crisp lines and vivid colors. We can also print posters, bookmarks, flyers, and other promotional materials to help you promote your digital work.