Educators are always looking for new ways to reach their students in the classroom. One form of literature gaining traction among younger students and adolescents alike is graphic novels and educational comics. Children and teens can absorb important historical and literary concepts by reading graphic novels that combine words with a visual medium to engage their senses and help bring the stories alive.
If you are a daring teacher with artistic talent who wants to make their own comic for the classroom or someone with an idea for a historical or literary story that would work well in graphic novel form, this guide will walk you through why graphic novels and comics are effective teaching tools and how to create your own comic for the classroom.
Comics and Graphic Novels
Comic strips, books, and graphic novels are all forms of the same type of media. They contain sequences of illustrations along with printed text to tell a story. Comic strips are the shortest of the three. They typically communicate a punchline or political statement and are usually featured in newspapers or magazines.
Comic books are longer than comic strips. They are stand-alone media that tell a larger cohesive story. Comic books are often released as serial episodes in a larger canon.
Graphic novels are the longest of the three, offering detailed, long-form storytelling in visual form. Graphic novels can be part of a series but are often stand-alone books.
Comics in the Classroom
Comics and graphic novels are used in the classroom to engage reluctant readers, give students a different perspective of a story or event in history, and supplement curriculum materials.
One of the best examples of using a graphic novel in the classroom is Art Spiegelman's Pulitzer Prize-winning graphic novel, Maus. Maus, a graphic novel memoir about the Holocaust, was one of the first graphic novels to be used in the classroom and continues to be used by teachers and professors to educate students on the subject 30 years after its release.
Why Comics are Effective Teaching Tools
Due to Maus' groundbreaking achievements, graphic novels have become a staple in the classroom. Teachers often turn to graphic novels or comics to highlight important themes in a lesson or help reach children who need contextual clues to understand vocabulary. Comics are also especially helpful for young readers and students with reading disabilities. Graphic novels and comics are effective teaching tools because they help readers:
Gain reading confidence
Strengthen vocabulary
Aid in contextual understanding
Help literature comprehension
Deepen knowledge of a subject or theme
Give a different perspective on required course material
How to Create your Own Comic for the Classroom
To create your own comic that can be used in the classroom, you need to go through the process of planning, writing, illustrating, and printing your project. There are several steps involved; however, once you have completed your comic and see it in the classroom, it will all be worth the effort.
Choose Your Subject
To choose the topic for your own comic book or graphic novel, identify what your goal is. Do you want to create a graphic novel or comic specifically for the classroom, or is your project a personal endeavor that deals with a historical event or literary theme? Whatever your answer, it is important to hone in on a subject. Readers of all ages appreciate a focused piece of work, and if you are creating a piece exclusively for the classroom, you need to focus on ideas surrounding that topic in a creative way.
Also, consider whether your own comic story will feature a superhero through which you communicate a theme that young people will connect with. Choose a unique name for your protagonist and antagonist and decide on the design style of the comic.
Write Your Text
Contrary to what you might expect, you want to write your text before illustrating your comic book. A story is central to all comic books and graphic novels, so write your story and dialogue first, followed by creating your illustrations and speech bubbles. While writing your text, you'll want to keep in mind who your audience is. Ask yourself the following questions to help you write a story that can be used in the classroom.
What is the age of your target audience?
What level of vocabulary should be used?
How can I portray complex subjects in age-appropriate ways?
What words or phrases highlight this event, theme, or historical period?
What characters will this audience most identify with?
Create Illustrations
To create illustrations for your own comic strip, start by choosing a layout. You can make use of comic strip templates online and begin drafting your storyboard panels. Decide what type of binding you want for your project and the size of the paper. Then, use a software program such as Adobe Illustrator or Canva to create a template for your drawings.
Depending on your skill level, you may choose to hand-draw your comic, or you can use illustration programs to create vivid, detailed pictures. While illustrating, consider your audience.
Make sure to portray violent or explicit content in a way that does not exclude school-aged audiences. Create images that can be used in broad settings. Make your illustrations fun, use your imagination to engage younger kids, or try vibrant or gritty realism to reach older teens.
Print Your Comic
To print your comic, upload your finished template to a publisher's website. Comix Well Spring gives you several publishing options to choose from. A square-bound paperback is the best option for a professional look and durable structure for a graphic novel or longer comic book. If you create a shorter comic strip compilation or comic book for younger students, you might opt for the saddle-stick, staple-bound book, which is perfect for smaller projects. Our easy online ordering system makes printing your comic simple, and our fast turnaround time will get your project in the hands of students fast.
Market Your Work
If you plan to reach a broad audience with your graphic novel or comic strip, you'll need to consider marketing. Invest in a simple website for your novel where you can talk about the benefits of using your work in the classroom. Write a letter to local schools or set up a meeting with their librarian to talk about your book and how it can help teach children about an educational subject. Consider bringing along custom printed bookmarks to give to the school for students to use and spread the word about your book.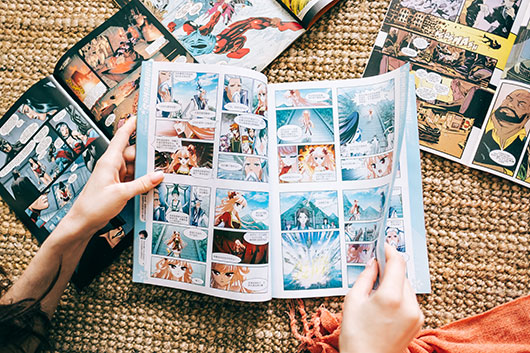 Print Your Comic for the Class
Whether you are a teacher who wants to use a comic strip to illustrate a scientific principle or a creative person who wants to write a graphic novel about a historical event, creating a comic for the classroom is a rewarding activity. Comix Well Spring offers you a variety of comic book sizes and printing resources to bring your comic to life and into the classroom so students can learn in more interesting and visual ways.