If you are a comic book fan, writer, or illustrator looking to show off your talent in a new format, creating your own comic strip is a great medium to experiment with. The short and highly visual medium of a comic strip allows you to use your imagination to bring the stories and pictures in your head to life and share them with fans worldwide.
Making your own comic strip is easier than ever before. New software programs and self-printing options give you the freedom to print at your own deadlines rather than working with a traditional publisher. The creative independence this offers is terrific; however, creating a comic strip on your own can feel intimidating without a roadmap to guide you. Take a look at these steps to make your own comic strip so you can see your project through to completion and get your comic to your developing fanbase.
How to Make a Comic Strip
The following are basic steps to guide you through making your own comic strip.
Do Your Research
Any good creative project begins with knowing your medium. Your first step in creating your own comic is to study others on the market. Take a look at comics in bookstores or comic strips in local newspapers and make mental notes on how they are formatted, features you want to emulate, elements you want to avoid, sizes, and colors.
Re-read your favorite comics and buy a few new titles to study the storylines and characters. Read articles online about comic creation and get to know everything you can about the art form.
Brainstorm
For any creative endeavor, brainstorming is a fun process and a great way to unlock innovative ideas. Brainstorming allows you to get all your ideas out of your head and latch onto the characters and stories that will become your comic. Come up with creative names for your cartoon characters or a quirky power for your superhero.
Use creative writing brainstorming techniques to get your ideas flowing. This is an excellent time to decide who your audience might be. Will you write exclusively for adults or kids? Or perhaps an educational comic strip for students that educators can use to talk about real-world themes? Don't be scared to throw everything on paper and see what brilliant and exciting thoughts stand out as you go through this process.
Write the Story
Your story is perhaps the most important part of your comic project. Even though comics are a visual medium, the narrative is the heart of your comic. One method of writing is to use a storyboard to get a rough estimate of how the text of your story will fit in with each illustration.
This method works well with short comic strips because it allows you to do a rough sketch of your graphics and work your text into the allotted space within your boxes. You will most likely use dialogue for a good portion of your comic strip, which is why storyboarding is helpful. You can get an idea of where your dialogue fits in on the page.
Select a Layout
After you've written your story, it is time to select a layout for your awesome comic strips. Choosing your layout in advance helps you determine what types of illustrations to create and visualize how your comic will look on the page. Plan for the placement of speech bubbles and think about what images you want to include. Use software with comic strip templates and layout your panels in different arrangements. Don't be afraid to get creative.
The book size matters as well. The standard comic book size is 6⅝" x 10¼", and smaller Japanese-style comics run 5½" x 7¾", but there are several different sizes in between to choose from as well.
Illustrate Your Comic
Your next step is to illustrate your comic. There are two main ways to illustrate, by hand and by computer. You don't have to be a professional cartoonist to successfully create graphics that readers will love. Hand-drawn illustrations are unique and allow artists to express their creativity, while computer programs give those who don't have the artistic talent the chance to create beautiful artwork to accompany their story.
If you choose to illustrate by hand, you will scan your artwork into a publishing program when it's time to print, creating an extra step in the process. If you use a computer to illustrate your comic, you'll save your work in PDF (portable document format) and simply upload it to publishing software.
Upload and Print Your Comic
The final step in creating your own comic strip is to upload your completed illustrations with text to formatting software for printing. It might be tempting to keep your comic strip in a digital format, but printing your comic in physical form reaches more people and allows your friends or fans to truly appreciate your artwork. Comix Well Spring provides you with several printing options, such as saddle-stitch binding, for creating hard copies of your finished project.
Helpful Tips for Creating Your Own Comic Strip
In addition to following the steps above when making your own comic strip, consider these tips that can help you create an engaging comic strip with an eye-catching cover.
What Makes a Good Comic Strip?
A good comic strip combines unique artwork with a killer story. Even short comics need to have a narrative with a beginning, middle, and end that make the reader laugh, scream or cry. Comics are literature, and a good comic should evoke a reaction from the reader. An excellent comic puts the story first and enhances it with fantastic artwork.
How to Make a Good Comic Book Cover
If you're publishing a collection of comic strips in a book format, a good cover is essential. A cover tells your reader what to expect when they buy your book, so it is vital that your cover catches their attention in a creative way and conveys what they'll find inside. When making your book cover, do market research and use graphic design software to create several options. If you can afford it, hire a graphic designer to create an eye-catching cover.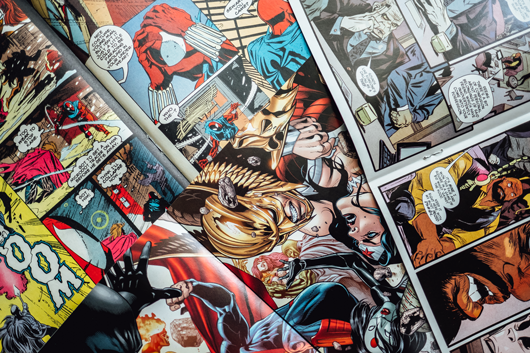 Create Your Own Comic
Whether you are creating a custom comic strip, comic book, or graphic novel, Comix Well Spring has everything you need to print a vibrant finished product. With our user-friendly online ordering system, you can choose the binding type and paper that perfects your project. Our friendly customer service ensures your questions are answered, and our simple submission system makes bringing your comic to life easy and exciting.