Creating your comic book or graphic novel is a labor of love, and it won't feel complete until you hold a physical printed and bound copy in your hands.
Before you walk through the print shop door with the PDF file of your comic book or graphic novel, consider a few key elements to help you get the best quality print possible.
Purpose
Before you decide on printing your comic book or graphic novel, consider your purpose for publishing it. If you just want to see your work in print for personal use, the quality may not be as important. But if you are printing to showcase your work in a portfolio, quality is critical.
Let your printing company know your purpose for printing so they can guide you to the options for your needs.
Dimensions
While there are no hard and fast rules for comic book and graphic novel sizes, there are general guidelines. Comic books are typically 6⅝'' wide and 10¼'' high, while graphic novels are usually either 5½'' x 8½'' or 8½'' x 11''.
If you are trying to gain readers or display your art prowess, printing in a non-standard size can help you stand out, and larger dimensions allow for more detailed illustrations. However, the larger the dimensions, the more printing will cost.
Page Count
The number of pages in your completed work impacts the overall price, the type of binding, and paper thickness. You'll also need to decide whether you want to include page numbering.
Be careful when communicating this information to your printer. One sheet of paper counts as two pages, so the number of pages is always twice the number of sheets. Some printers price by sheet, while others price by page.
Binding Style
You have two binding options for comic books and graphic novels: saddle stitch and perfect binding.
Saddle stitch binding works well for lower page counts. In this binding method, sheets of paper are folded with staples running through the fold. This method is the most cost-effective of the two, and it allows pages to lay flat to make two-page layouts look pristine.
If you opt for saddle stitched books, be aware that your page count must be a multiple of four since each sheet is folded in half to make four pages. Generally, saddle stitch binding is effective when you have 32-40 pages in your work, although that number fluctuates based on the thickness of the paper you select.
If you need more pages, select a thinner paper; if you use thicker paper, you'll have to cut the page count.
The second option is perfect bound binding (also called square binding), which is best for graphic novel printing since those tend to be longer. In perfect bound books, the edges of each sheet are held together at the spine with a flexible yet strong adhesive.
Perfect binding creates a square spine, where you can print the title of your comic book, and your name, a feature that isn't available on saddle stitched books. However, the three exposed edges may be uneven due to the gluing process, so the printer will need to cut them to get a perfect edge.
Ink and Paper Characteristics
Just like the quality of an artist's work is impacted by the quality of their tools, the quality of a printed comic book is impacted by their ink and paper.
Most comic books and graphic novels are known for vivid colors that grab the reader's attention. You'll want to consider if you want your ink to bleed, which means run to the edges of the paper. While this looks professional, it can be more costly since the printer will need to print the comic book or graphic novel on larger paper and then trim off the excess to ensure the ink line extends to the edge of the page.
Paper thickness, texture, and sheen impact the overall quality (and price) of your book. Glossy paper stock makes colors pop, an excellent option for covers, while uncoated paper is best for internal pages.
80lb. paper weight is generally sufficient for comic books and graphic novels, although a printer may make suggestions based on your specific needs. You want the paper to be thick enough to survive multiple readings, especially if you use your book as a portfolio piece, but you don't want it to be so heavy that the pages are difficult to turn.
If you are using dark colors like black ink, consider thick paper to prevent it from being visible from the other side of the sheet.
You also need to consider the paper used for the front cover. For comic books, you can opt for a self-cover when you use paper that is the same thickness as the interior pages. For graphic novels, you can use matte or glossy paper to make colors brighter and reflective while also providing extra durability.
Quantity
Finally, you need to consider how many books you need. For a small run, opt for digital printing, which has a lower startup cost. If you need more than 500 copies, offset printing is a better option. The startup costs are higher, but you can distribute the cost across more books, making it cheaper in the long run.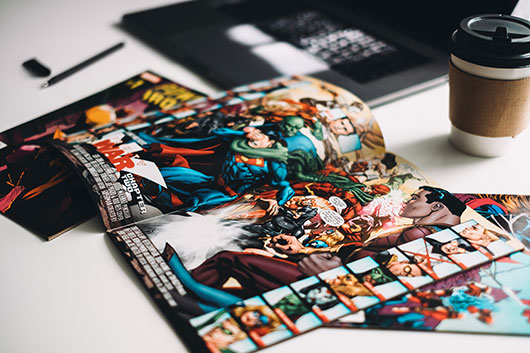 Comix Well Spring is Ready to Help You Print Your Comic Book or Graphic Novel
Making these decisions can be challenging, especially if you are new to printing comic books and graphic novels. At Comix Well Spring, our knowledgeable customer service representatives can answer all your questions and make recommendations based on your purpose for printing. Contact us today about printing your comic book or graphic novel.