The comic book market has grown every year for the last decade which is exciting for comic book shops and creators. If you write comic books and want to break into the industry you need a trusted printer to make your books a reality.
Online comic book printing is the most popular way to get your comic book onto bookshelves. It is easy, fast, and accommodating to any comic when you do it the right way with the right printer.
Online Printing Advantages
Online printing has become the standard for comic printing because it provides printing services regardless of your location. As long as you have access to a web host like Google Chrome, you can access online printers. The best online printing services make comic printing easy with fast turnaround times, print and digital proof options, and inclusive order sizes for any comic creator.
Customer service
Online printing services know that getting your digital comics into comic book stores is a time-sensitive and high-stress procedure. It demands open communication between the printer and the creator.
At Comix Well Spring, we are committed to a strong relationship with our customers and take pride in guiding you through the printing process. We want to get you from reading digital versions of your comic to holding the real thing as easily and as quickly as possible.
Flexible time frames
Online printing companies get your product to you on your schedule. Comix Well Spring can print comics and deliver them all in as little as two days. The three production speeds we offer are lightning-fast (2-6 days), rush (7-13 days), and standard (14+ days) to accommodate your turnaround time.
Physical and digital proofs
Online comic printing has the advantage of digital and physical copy proofs. A proof is a sample of the printed product that you check for errors before the printer completes the full order.
The digital version is unique to online book printers and is best for fast orders because it adds close to no time to your order. Just ensure there are no mistakes and email the printer verifying that the whole batch is ready to print.
Online comic printers can also send physical books through the mail. This adds time to the printing process, but we are happy to supply it if you would like physical proof of the product.
Quick reordering
Whether your comic gained social media attention and sold out, or you are just getting ready for a local comic con, quick reordering makes your life easier. Comix Well Spring saves your order file for two years after your initial order so you can quickly reorder comics and graphic novels.
Low minimum orders and cost-effective bulk ordering
There is no pressure to produce comics at a high rate like DC Comics or other industry giants with online printers. Comix Well Spring's 25 copy minimum enables first-time comic creators to get their creation into the real world without breaking the bank.
If you know people will buy comics you make, then we provide bulk order discounts. Starting at 250 copies, your order will be 5% off, and it can get up to 20% off for orders over 1,000 copies.
Creating Your Order
With online printing, you have access to the full printing facilities of large companies. That shows in the many options you have for your comic book's specifications.
When you order a comic book print run, you provide the file and then decide on the book's size, materials, and other specifications. The style of your comic book determines most of its specifications, but there is some room for cost considerations as well.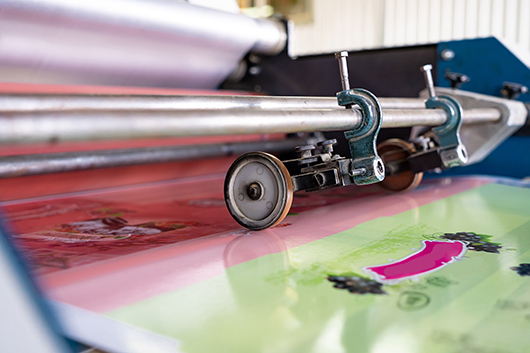 Size
The normal size for a comic book is 6.625" x 10.25" but there are smaller and larger options like manga sizing (5.5" x 7.75") or magazine sizing (8" x 10.5"). Comix Well Spring even offers custom sizing up to 9" x 12". No matter what dimensions your sequential art requires, we can print it.
Cover and paper options
The cover and paper material can be a source of considerable money savings. While we carry the highest quality UV-coated covers that you might see on big-name comics like Spider-Man, we also have less expensive options that showcase your comic's art.
Our standard paper stock is 60 pound bright white uncoated paper that makes reading comics easy because of its brightness. Its heavy weight gives it long-lasting durability. We also carry 80 pound gloss stock paper and three lighter options.
Ink/color
We print full-color image comics and black and white comics. You can also get a hybrid book made with most pages in black and white and splash pages in full color. This is perfect for a comic creator on a budget who still wants to showcase their full artistic ability.
Binding
The binding of your comic book depends on how many pages it is. If your book is 64 pages or less, you should use saddle stitching, which is the classic comic bookbinding style. It is best to use square binding if you are printing a graphic novel, which binds the pages into a book spine. Comix Well Spring can bind books up to 300 pages long.
Print Your Comic Book Online Today
The numerous services online printing provides make it easier than ever before. A trusted online printer, like Comix Well Spring, offers quick turnaround times, many specification options, quick reordering, and excellent customer service to guide you through the process.
Contact us today to learn more about the comic printing services we offer.