If you've ever wanted to create a comic book or comic strip, it's easier than ever before. Thanks to new technologies and platforms, anyone can create a comic book and share it with the world.
Whether you're a skilled artist or just starting, there are plenty of ways to get your work in front of a broad audience. Discover three accessible platforms to make an online comic book and learn where to print your work if you want physical copies for your fans.
What to Look for When Selecting an Online Comic Books Platform?
With the popularity of online reading, many comic book makers are now available online. When selecting a comic book maker, take some time to read reviews of different comic book makers and keep the following in mind before making your final decision.
Consider the Format of the Comic Book
Decide what format you want your comic book to take. Some online platforms allow for a traditional print layout, while others offer designs more suitable for digital reading. Knowing your goals can help you choose the correct application and avoid complications if you want to switch the format later on.
Think About the Level of Customization You Need
Some makers have pre-set templates that you can use, while others give you more control over the look and feel of your comic. You may find pre-designed templates helpful if you are making a comic for the first time, but if you are a seasoned pro experimenting with a different format, you may want more customization.
Consider the Cost of the Service
Decide how much you are willing to pay for the comic design service. Some comic book makers are free to use, while others charge a monthly or annual fee. Some have free elements but charge you to use more in-depth features. When researching your options, note the pricing plans for each platform so you can pick one that meets your budgetary needs.
Platforms That Make Online Comic Books
Several platforms offer different options for creating online comic books. Some platforms are more user-friendly than others, and some offer more features. If you're looking to create an online comic book, choosing a platform that suits your needs and workflow is crucial.
Explore the following three online comic book creation platforms to decide which is suitable for you:
Storyboard That
You don't need any artistic experience for this website. On Storyboard That, you can choose from one of the many pre-designed templates and start creating. The site offers various tools for creating comic books, including drag-and-drop panels, multiple art styles, and pre-made templates.
Storyboard That also has options geared toward comics for education, business, and personal use. While this option isn't free, it offers a few different pricing plans, so you can choose one that meets your needs.
MakeBeliefsComix
MakeBeliefsComix is perfect for both kids and adults. The site offers a colorful, user-friendly interface and a wide range of features, making it easy to create comics even if you're a beginner.
To get started, choose a template and add your images and text. Experiment with different fonts and graphics to create a unique work. Once finished, you can share your comic book online. Whether you're a seasoned artist or just getting started, MakeBeliefsComix is the perfect platform for creating a comic strip or book.
Pixton
Pixton is another great platform for creating online comic books. Designed for teachers and students, Pixton is a paid comic maker where you can choose various characters, backgrounds, and props to create your own story. If you can't find what you're looking for, you can create custom characters to give your comic a unique look.
Although the website is geared toward students, businesses and individuals can benefit from its easy-to-use interface.
How to Choose the Right Fonts and Graphics for Your Comic?
When creating a digital comic, you must choose suitable fonts and graphics. Your font should be large enough to be easily read but not so large that it overwhelms the given topic. Most comics use between 9.5 and 12 pt fonts; however, the size depends on your font and type of comic.
For graphics, it's important to choose images relevant to the comic's subject matter that complement the text. Avoid using too many images or busy patterns that could make the comic challenging to read. Also, consider your audience when including images and avoid explicit imagery for younger readers.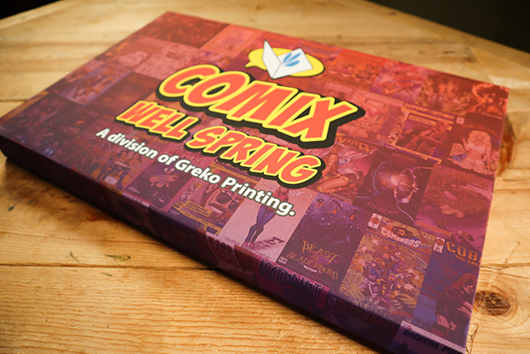 Print Your Comics
If you create an online comic and want to see it in physical form and share it with the world, find an online printer like Comix Well Spring. We specialize in printing comics of every size, shape, and color, and we can help you transfer your digital work to a printed format. Our experts are always on hand to help you get the most out of your printing experience and help you decide between binding and paper types.
Contact us at (734) 924-0044 today to learn more about our services, or visit our website to get started.