Print-on-demand (POD) services may seem convenient and cost-effective if you are an indie author self-publishing your comics. POD allows you to print a single comic, reducing the need to store comics and fulfill the order yourself.
While POD may initially sound appealing, there are several disadvantages to print-on-demand that can adversely impact the quality of your comics and cut into your profits.
Understanding the cons of print-on-demand can help you support and grow your self-published comic book business.
Lack of Consistency in Prints
With POD, indie authors cannot digitally or physically proof each book before it is printed and shipped. This can result in inconsistent prints that vary from customer to customer, particularly with printers that print one-offs.
Environmental factors and different machine operators can also affect the final print, making maintaining quality control difficult. To ensure consistent quality, it's best to use bulk orders or low minimum print runs offered by reputable print providers like Comix Well Spring.
Smaller Profit Margins
POD services may initially appear more cost-effective than other printing options, but the more products a printer produces at once, the lower the cost per product. This means lower profits for the self-publisher, particularly with printers that print one-offs.
With Comix Well Spring's bulk orders or low minimum print runs, you can earn more on each book you sell.
Inconsistency in Paper Quality
A nationwide paper shortage makes it challenging for printers to maintain consistent quality from run to run. While Comix Well Spring maintains a high standard of paper quality, the same weight and texture may vary from one manufacturer to another, particularly with POD printers that print one-offs.
Ordering in bulk ensures that your entire run will be printed on the same paper stock.
Timing
POD services have a long process of prepping, printing, and assembling that can take up to 7-10 business days plus shipping time. No customer wants to wait that long. Ordering in bulk ensures that your products are on hand and books can be shipped in 1-3 business days, resulting in faster delivery and happier customers.
Comix Well Spring offers expedited shipping options to get your books to your customers even faster.
Returns Management and Customer Service
Dealing with returns and customer service can be a hassle when using drop shippers. They often waive responsibility for delivery issues, leaving you to handle customer complaints alone.
Comix Well Spring ensures that customer service staff can help with returns and claims, assist with customer communication, and develop a solution that satisfies all parties.
Limited Customization
POD services offer limited customization options, which can be frustrating for indie comic book creators who want to produce a unique product to thrill their fans. These limitations may include factors such as paper quality, cover finishes, binding options, and the overall look and feel of the comic book.
Bulk printing allows for economies of scale. This makes it financially feasible to invest in higher-quality materials, specialized finishes, and unique design elements that would otherwise be cost-prohibitive when dealing with one-off POD orders.
You can also add personalized details such as variant cover artwork, different paper types, binding style, and even extras like bookmarks or posters, which make excellent gifts for fans.
Shipping Costs
Shipping costs can potentially eat into your profits when using POD services. Since POD involves printing and shipping individual copies of your publication to customers, the costs associated with packaging, shipping materials, and postage can accumulate quickly. This increase can be crippling for self-publishers who need to maximize their earnings from each comic book sale.
Printing one-off copies contributes to shipping cost escalation. When orders are fulfilled individually, shipping expenses can become disproportionately high, especially if you are shipping to various locations nationally or internationally.
Choosing to bulk order your prints means fewer individual shipments. This reduces shipping expenses, contributing to more predictable and manageable costs. Additionally, having a physical inventory allows you to fulfill orders quickly and offer your readers signed copies or personalized editions.
Lack of Care and Quality
POD services often prioritize speed over quality, resulting in poorly printed books that can damage your reputation and customer retention. For indie authors, every interaction with a reader is a chance to build a loyal audience.
Readers who receive inferior-quality books are likely to be disappointed, and this can have ripple effects on the author's brand. Negative word-of-mouth, social media backlash, and unfavorable online reviews can deter potential customers and readers from engaging with the author's work in the future.
This impacts immediate sales and undermines the author's long-term prospects in the industry.
Comix Well Spring ensures that your books are printed with care and attention to detail, resulting in a higher-quality product that will keep your customers and readers engaged and happy.
Limited Distribution Channels
Another drawback of using print-on-demand services is that it may limit your distribution channels. Some retailers and distributors may not want to carry books only available through print-on-demand, as it can be challenging to ensure consistent quality and delivery times.
Ordering in bulk or low minimum print runs can allow you to distribute your books through various channels and increase your visibility in the market.
The Comix Well Spring Bookstore (CWSBookstore) is an excellent alternative to print-on-demand. The CWSBookstore is an online bookstore where indie comic book creators can sell their books directly to customers.
It offers an ideal alternative to print-on-demand services, with bulk orders and low minimum print run options, fast delivery times, and no upfront costs.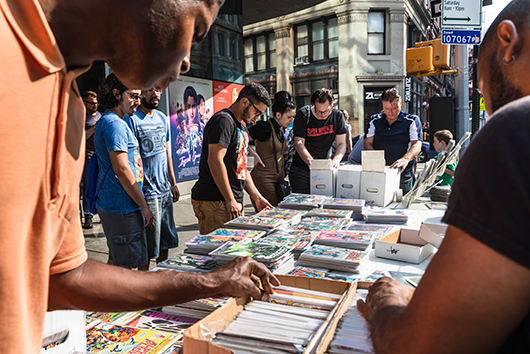 Contact Comix Well Spring Today
As an indie comic book author, understanding why print-on-demand is not the best option can help you make financially savvy decisions for your business.
Using bulk orders or low minimum print runs offered by Comix Well Spring or selling your books on the CWSBookstore can help you create a unique, high-quality product, increase your distribution channels, and boost your visibility and sales.
Explore Comix Well Spring's printing services today, or contact us for more information on the ordering process.