As you near completion of your graphic novel or comic book project, your next step is to begin to think about how to go about publishing your finished work. The two main publishing options in today's literary landscape are traditional publishing and self-publishing. Each option boasts benefits and drawbacks, so it's important to understand both before making the final decision.
To choose the right type of printing approach for your project, it is helpful to compare the initial steps to traditional publishing and self-publishing and break down the pros and cons of each option before committing to a publishing path.
Traditional Publishing Process
If you want to follow the traditional publishing process, you will find that most major publishing companies follow the same procedures.
As a previously unpublished writer, your first step will be to pitch your idea to a literary agent. You can do this while writing a book or after you've finished a copy of the manuscript.
This is typically the most difficult part of traditional publishing. You must research the names and contact information for literary agents that handle your type of book, fiction, non-fiction, biography, or whatever, and try to convince one of them to become your agent.
You likely may wait weeks or months before they respond to your inquiry. You likely, too, will receive a large number of rejections before you find one that wants to work with you.
After contracting a literary agent, they will work on your behalf to secure you a book deal with a publishing company.
A book deal is a legally binding contract that codifies exactly what the publishing company will do for you, what percentage of the royalties you will get, and who owns the rights to your work.
Once you sign the contract, the publisher will typically offer you an advance on the expected royalties while working with you and your agent to edit the project until it meets their satisfaction.
The publishing company will also enlist a team of designers and marketing specialists to generate interest and create a good market for your story.
Pros of Traditional Publishing
There are a few pros to traditional publishing, such as the:
Monetary advance that comes with the book deal;

Respect that is afforded to authors published under big-name companies; and
Professional marketing and editing services afforded during the process
Cons of Traditional Publishing
There are also many cons to working with a traditional publishing company. The two biggest setbacks are royalty rates on traditionally published books and loss of creative control.
Although it varies by publisher, most authors only receive a 5% to 7% royalty rate on paperback books and 10% to 15% on hardcovers. That means up to 95% of the money your book makes goes to the publishing company to pay for marketing, editing, and publishing costs, as well as paying your literary agent.
In addition, when working with a publishing house, you as the author typically don't retain the creative rights to your work. This means the company can edit out important parts of your story and change visual elements even if you don't agree.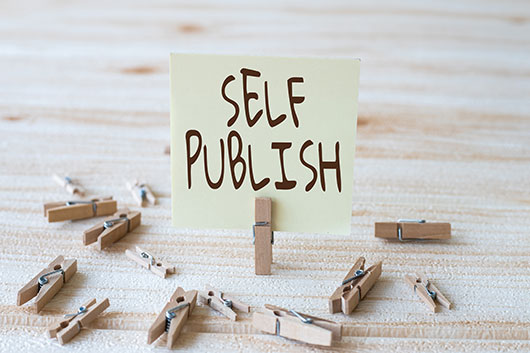 Self-Publishing: The New Frontier
In the past decade, self-publishing has become a respectable and viable method to get your work out into the world without working with a traditional publisher. Between 30% and 34% of ebook sales come from self-published indie authors.
Publishing works through self-printing and marketing is a much less controlled and restrictive process than the traditional way. In self-publishing, you take on the big steps of traditional publishing, such as editing, printing, and marketing the book yourself rather than hand the jobs over to a large company.
In self-publishing, nobody else controls what you include in your work and nobody else, other than the platform you choose to sell on, takes royalties out of your book.
Pros of Self-Publishing
There are several benefits to self-publishing vs. traditional publishing. These are:
Complete creative control;
Higher royalty rates;
No tight deadlines; and
Ability to market to a niche audience in a personalized way.
Cons of Self-Publishing
The biggest cons to self-publishing are that you cover the upfront costs of printing the book and carry the responsibility of marketing it. Although this can be a hindrance, it may not be a big obstacle if you plan ahead. If you start marketing your book early through social media channels and niche comic groups that you belong to, you can drive up interest before the book is released.
Additionally, you can easily publish your book when you choose a printing company with affordable pricing for independent creators. On top of that, you can acquire marketing materials to distribute during any local author signings or tables you've set up to get the word out about your book.
Which Option Should You Choose?
When choosing between self-publishing vs. traditional publishing, it is useful to identify your personal and professional goals to narrow down which choice is best for you. Ask yourself the following questions:
What are my reasons for publishing the project?
Is creative control important to me?
Do I have a literary agent, or am I willing to put in the work to find one?
How much money would I like to make?
Do I have the resources available to create and market the book on my own?
If the idea of becoming a traditionally published author, working with a literary agent, and allowing a traditional publishing house to own the rights to your work feels like a fair trade-off for the potential benefits you'll receive, then a traditional publishing company may be the right choice.
However, if you are excited by the idea of becoming an indie author, retaining creative control of your work, and receiving higher royalties on the copies you sell, then choosing to go the self-publishing route is the better option.
Self-publishing is a great option for comic book and graphic novel creators. It eschews the restraints that traditional publishing comes with in favor of creative control and personalized, niche marketing that can lead to successful sales and well-earned recognition.
Self-Publish Your Masterpiece With Comix Well Spring
When you are ready to self-publish your hard-won masterpiece, choose Comix Well Spring. We specialize in comic book printing in saddle stitch and square bound formats to set you up for literary success. We also offer affordable self-marketing products for indie authors like banners, bookmarks, and business cards to help you get the word out about your book.