Creating your own comic book is an exciting creative endeavor with potential monetary benefits. In 2020, comic sales in the form of digital comics, physical comic book sales, and graphic novel purchases amounted to $1.3 billion.
If you are thinking of making an independent comic book and want to get it to market, you need to know the total cost of printing a comic book. Many choices affect the printing cost, from the binding style to the ink characteristics and paper size.
Printing Decisions that Make a Price Difference
When you go to a printing company with your comic book, there are a lot of stylistic and material decisions you make that determine the cost of printing. Your comic book's style determines your decisions placing the page rate out of your hands.
However, there are other factors, like cover material and paper weight, that you can make independent of your comic's style that also influence your printing costs.
Binding style
The binding style can either be saddle stitched, also known as staple binding, or perfect bound, also known as square binding. Saddle stitched comic books are highly recommended for shorter comics because they are less expensive and popular for indie comics. It uses two special binding staples to secure the folded pages of the book.
Since the pages in a saddle stitched book are folded, it has to have a page number divisible by four. A 32-page book would work, but a 30-page book would not. Typically the page limit for this binding style is 68, including the front and back covers.
Perfect binding is the high-quality binding style that increases production costs but is necessary for large comic books and graphic novels. Glue binding, another name for perfect binding. It accommodates up to 300 pages and provides room for the title on the book's spine.
Cover material
Your comic book or graphic novel has multiple cover options with different advantages and price points. There are two gloss finishes and one matte finish that all work for both saddle stitched and perfect bound books.
The two gloss finishes include the standard glossy 80 lb. stock, and a special UV coated 12pt cardstock. The standard glossy option is more expensive than the matte cover, but it is the classic comic cover material and displays color printing better than matte.
The UV-coated 12pt cardstock is more expensive but delivers an unmatched shine that makes colors pop off the cover.
A matte cover is the least expensive and is best for black and white comics, even though many full-color comics use matte covers. If you want to keep the printing cost down, choose a matte cover.
Colors
The printing process can be done in black and white, greyscale, or full color; the latter is the most expensive. If you are a new comic creator looking to publish your first comic book, you may want to stick with cost-effective black and white printing.
You can spruce up a black and white comic book with color splash pages and colorful front and back covers. This way, you save money on printing while still showing off your artistic abilities. Plus, you can always re-release a black and white comic in color if your fans demand it in the future.
Another decision that affects the printing costs is whether you want your ink to run to the edge of the pages. This is a more expensive option, but it is common among published comics because of its professional appearance.
Page size
The size of your comic book's pages depends on your comic's style. It is less expensive to print on smaller pages, as is the norm for manga which prints on 5.5" x 7.5" pages. This can be restrictive for comics with detailed art, which is more commonly printed on standard 6.625" x 10.25" paper. On the large and most expensive end of the spectrum are magazine size prints which measure 8" x 10.5".
Paper weight
The interior paper is either 55 pound, 60 pound, or 80 pound stock. At Comix Well Spring we use 60 pound uncoated white paper but we have other choices including 80 pound stock. The heavier paper is more expensive, but it increases your book's durability, so it can be re-read multiple times. A printing professional can consult with you to determine your comic book's best paper weight and dimensions.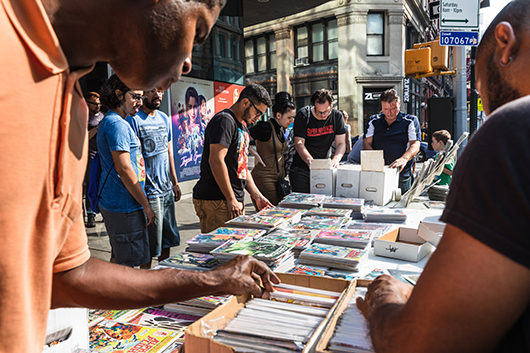 Bulk discounts and minimum orders
Bulk discounts and minimum order requirements are two clerical factors determining the final cost of printing a comic book. At Comix Well Spring, we offer bulk discounts for print runs over 250 copies and bigger discounts for larger orders.
Contact Comix Well Spring for Your Comic Book Printing
The creative decisions for a comic book are hard enough without considering the printing decisions. At Comix Well Spring, our professionals can walk you through the printing process and help you make cost-effective choices at every step. Contact us today if you want to learn more about our printing options or request a free quote.