The two most crucial decisions you will make in your creative journeys are the binding and finishing options. To produce a polished, professional publication, understanding the binding and finishing methods available to you is key to making the right choice.
There are all types of methods for binding and finishing your print projects, like spiral binding (also known as coil binding), perfect binding, and saddle-stitched binding. Here's how the different methods can influence the look of your work.
Different Binding Options Available
When your printing project entails more than one printed page, you need to consider how it will be held together. If you have a large-scale printing project beyond business cards, bookmarks, and flyers, you have to choose a binding.
Three key questions that help you determine which type of binding fits your printing project are:
What is the purpose of the project?

How long do you want the printed piece to last?

How wide is the projected distribution?
If you want the finished product to last decades, employing a professional printing service is essentialemploying a professional printing service is essential. Here are the details about the specific types of bindings that help you present a cohesive, professional outcome.
Coil Binding
This type of binding is also known as spiral binding and is long-lasting and durable. Coil bindings allow for higher page counts and let the page lay flat when you are leafing through the final product.
A wire or plastic coil threads through a hole at the bottom of the sheets of paper and is wound through holes along the margin. Since it only uses one strong piece of metal to bind it all together, it is more durable.
A common choice for calendars, cookbooks, notebooks, and reference materials, coil or spiral binding, is an excellent choice for projects created for frequent use.
Saddle-Stitch Binding
If you want an option that's quick, cost-effective, and accommodates many different sizes, saddle-stitching is an excellent choice. To saddle-stitch a book, you stack all the pages, fold them in half, and staple through the middle with wire staples.
You need an even number of pages for saddle-stitching, and they don't last as long as other bindings, but they don't add any bulk to the final product so that you can ship in bulk for minimal cost. Saddle stitching is often seen in comic books, booklets, catalogs, and magazines.
Side-Wire Stitching
A related method to saddle-stitched bindings, side-wire stitching, entails pushing a wire staple through the gathered pages of your project from the front to the the back, bending or adjusting the staples to flatten, and covering them with binding tape.
This binding method is useful for a project that is too long for traditional saddle-stitching; the cost is about the same.
Perfect Binding
If you have a high page count and want a lightweight, polished result, perfect binding is one of the best binding methods. With perfect bindings, the spine of the books is flat and closed, like a book; most paperback books are perfectly bound.
To perfectly bind a book or longer booklet (because the book must have a minimum number of pages for this type of binding), the printing service gathers all the pages and, with heavier stock paper, glues the pages to the spine.
Not only does this create a handsome finished product, but the perfectly bound book feels and looks like a hardcover without the cost, effort, or time it takes to produce hardcover books.
Case Binding
Used extensively as book bindings for hardcover books, case bindings consist of more rigid cardboard cover and groups of pages (called signatures), all glued to the hardcover spine. This is one of the most expensive options, and it is time-consuming to make, but it will last decades.
Wire-o Binding
This type of binding has many other names, like wiro binding, wire binding, duo-wire, double-loop, or double-O. C-shaped pieces of metal are threaded through holes in the margin and crimped closed.
Usable for projects with wide ranges of page counts, wire-o binding creates a professional, polished appearance and, because the parts are metal, it's much more long-lasting.
Comb Binding
If you need to bind together laminated pages, comb binding is a cost-effective solution. Printing specialists insert a plastic comb through holes along the margins of your project. Because there are so many different comb sizes, you can print a very high page count in a short amount of time.
Once you have figured out which bookbinding is best for your project, according to the printing project's aim, length, and scope, you can choose some fun add-ons for flair as finishing options.
Selection of Finishing Options
The final touches are sometimes the most important. If you want to add extra polish to your print project, consider die-cuts, lamination, or foil stamps for added allure.
Die-Cutting
This technique allows for uniquely shaped pages or cut-outs. You can create windows or labels, which look great on creative projects like novels, novellas, or comics.
Lamination
You can either have all the pages laminated, adding a transparent layer for added stability and water resistance, or you can choose only to have the front and back cover laminated.
Embossing or Debossing
Embossing is when you create a raised word or design on the page, and debossing is the opposite – the process of engraving something onto a page.
This finishing method only works on stiffer paper made of thicker stocks, but it can create a classy finished project.
Foil-Stamping
Combined most often with the embossing finishing method, foil stamping adds metallic foils to distinct parts of your printed project. Usually, foil-stamping is reserved for important words or symbols, like a title or author name.
Edge-Staining
You often see edge-staining in day planners, personal journals, or reference books. A portion of the outer margin is stained a particular color, usually in conjunction with a group of pages, to designate different subjects, chapters, or sections.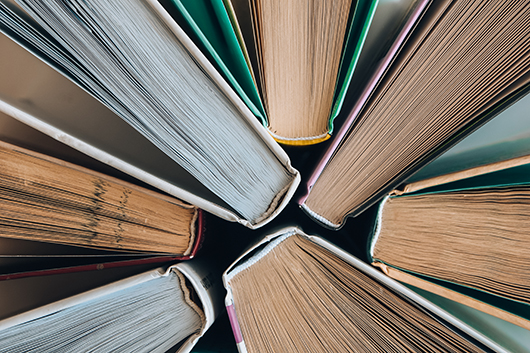 The Last Word
Picking the right binding option ensures whether your book stands up to years of handling and reading or if it will pack easily for shipping and not add extra weight. Finishing are the final flourishes of your printed project – they pull the whole thing together with a flash of metal or an embossed title.
If you are thinking about a printing project, you need to consider binding options and finishing touches. The number of pages per unit and the scope of your projected distribution all play into which binding fits your project best. An expert team of printing professionals, like those at Comix Well Spring, can help you make informed, efficient decisions.