Comic books aren't just for kids anymore. The overwhelming success of movies based on Marvel Comics and the television success of DC Comic-themed series proves that everyone loves a good superhero story arc.
So why aren't you taking advantage of that passion and using a custom comic book to market your business?
What Would a Comic Book for My Business Look Like?
The story you or your artist comes up with will probably be short, and it will feature your product or service in some way without being obvious. For example, maybe you sell insurance, so your comic book is about the aftermath of a battle between a superhero and their mortal enemy. Maybe the superhero apologizes to the insurance agent for forcing them out of bed in the middle of the night to deal with all the claims, or the insurance agent tells the superhero he needs him to pay for the new agent he needs to hire.
Whatever it is, keep the story short and funny to maximize the effectiveness of the comic book format. The hallmark of a great advertisement is one the audience doesn't even realize is an ad.
Comic Books are Cool
Some qualities of a comic book automatically make them appealing:
They are brightly colored, so they grab the reader's attention.
Images are easier to digest than long paragraphs of information.
There's a light-hearted, positive quality associated with superheroes that makes people happy.
In the endless battle between good and evil, good always wins.
Readers know exactly what they will get in a comic book: an evil bad guy tries to take over the world, and an unlikely hero suddenly finds they have the ability to save the entire world and get their love interest in the process.
The universal appeal is precisely why they make practical marketing tools.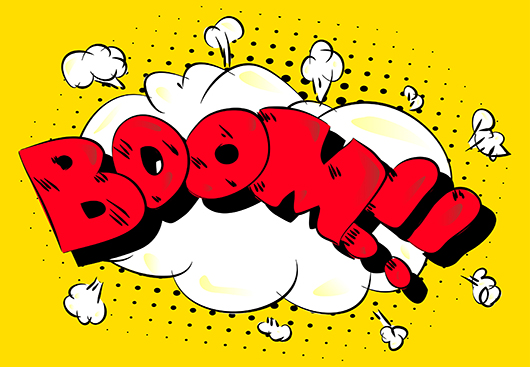 Why Your Business Needs a Custom Comic Book
Here are four reasons a custom comic book can benefit your business and marketing scheme:
You'll Stand Out From the Crowd
Going through your mail and finding a comic book advertisement is more pleasant than a typical flyer. Because this marketing method is so unique, you will separate yourself from your competitors, making consumers more likely to remember you and your product or service.
You'll Reach a New Audience
If you send out a custom comic book instead of a mailer, people will talk about it, even people who don't need your product or service. Word-of-mouth advertising is the best type of marketing because it's free. Plus, the comic book crowd supports its own, and they may be so enticed by the quirkiness of the comic that they decide to give you their business, helping you expand your customer base.
Your Ad Won't End Up in the Trash
So much mail ends up in the trash before it's even opened, which is especially true for flyers or email blasts. If a short comic book shows up in their mailbox, someone's going to read it before they throw it out because they won't be sure what it is or why it's in their mailbox. They'll probably think it's clever and keep it for a while.
You'll Communicate Your Services More Effectively
Comic books work as a genre because they tap into two powerful tools: storytelling and images. Stories capture our hearts, and pictures draw the eye, meaning what you have to offer will stick in readers' minds.
Let Comix Well Spring Help
Comic books are highly adaptable, making them an innovative marketing strategy for any business. When you're ready to bring your comic idea to life, Comix Well Spring can help with all your high-quality printing needs.