Knowing how to tell an engaging story with words is an essential skill in comic book writing. The narrative sets the stage for the project and inspires the illustrations that make a comic book stand out. Although illustrations are an important element of creating a comic, you don't have to possess outstanding drawing abilities to create a successful, engaging piece of work.
If you are passionate about creating a comic strip, comic book, or graphic novel, you can achieve your goal even if you can't draw. Consider taking one of the following approaches, such as hiring an illustrator or using digital tools, to publish a comic book without doing the illustrations by hand.
Hire an Illustrator
When it is time to start the illustrations for your comic book, consider hiring an illustrator. Many comic creators work with illustrators to draw the pictures for their books rather than creating the drawings themselves. To hire an illustrator, browse freelance illustrator platforms to find the right person for the job.
Try creating a job posting or browsing for artists on the following websites:
Fiverr
Guru
Upwork
99Designs

Indeed
Explore Alternatives to Drawing
Explore drawing alternatives like collaging or tracing if you want to create your own visual elements but can't draw.
Collaging
Collaging is a technique that pieces together scraps of paper, cut-outs from magazines or prints, fabrics, and other textiles to create an image. The results of using the collage technique are visually interesting and unique and don't require drawing skills. However, if you use this technique, alter the original images so your comic doesn't violate copyright law.
Tracing
Tracing involves placing a slightly transparent piece of paper on top of another work and tracing the image. While using the traced image on its own in your comic book would be considered copyright infringement, you can use the tracing as a base from which to add additional elements.
Use Digital Tools
Digital tools are an excellent option for comic creators who can't draw. A wide range of digital illustration tools is available, ranging from professional software to free online platforms.
If you want to create a webcomic to post on social media, using a site like Pixton, which uses pre-formatted templates, is a smart choice. You can also try out graphic designer sites like Canva. Canva offers a free version with access to tons of illustrations you can use to build your images.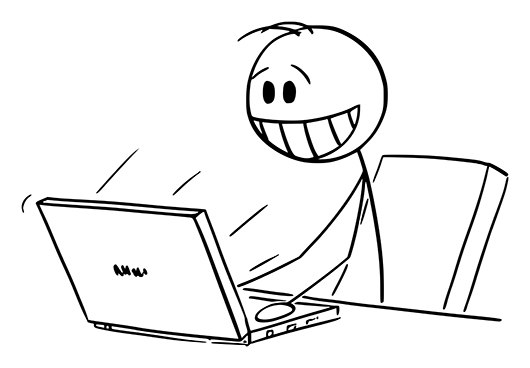 Embrace Your Drawing Skills
While it may seem counterintuitive, you can choose to embrace your drawing skills as they are. Webcomic creator Randall Monroe uses simple drawings combined with satirical writing to engage audiences in his popular XKCD comic. Mathew Inman uses straightforward illustrations on The Oatmeal comics to put a smile on readers' faces. Even Hajime Isayama, the creator of Attack on Titan, used his lamentable drawing skills in early versions of his popular manga series.
Write Your Comic No Matter What
If you are a writer with a kickass comic book story to tell, don't let a lack of drawing skills stop you from creating your work of art. Instead, write the narrative for the comic book, then hire an illustrator, use digital tools, or explore alternative techniques like collaging to create the visuals for your book.
After you've put together your comic book, work with Comix Well Spring to print your finished project. Choose from our saddle stitch binding option, great for projects under 64 pages, or our square bound option, best for longer book-length works.
Upload your digitally formatted work and choose your preferred size, paper type, and number of copies. Your professionally printed comic book should arrive within two weeks.
Check out our other blog posts for more helpful articles about comic book creation, or contact us with questions about printing your comic book or graphic novel.