Although most people are familiar with writing a script, storyboarding, and producing art for a comic book, artists cannot begin working on their craft without knowing what they will be printing it on.
If your comic book or graphic novel project will be a printed publication, then your work is a printing project. Here is everything you need to know to plan your printing process.
Initial Considerations
Before filling your blank pages with art, characters, and text, you must answer a few essential questions:
What is your available budget?
Are you producing a comic book or a graphic novel?
How many units do you want to produce?
How many pages does each unit have?
Once you have the answers to these questions, look for a printing service. A comic book is made of multiple sheets of paper that must be printed and bound.
If possible, ensure the same company handles printing and binding; you will not only save time and money, but this choice also limits the risk of incomplete pages.
Page Dimensions
Although the right size and page count for your project depends primarily on your page layout, it is critical to remember that some sizes are more common than others. Choosing non-standard dimensions is possible but may drive up your printing costs.
Although there is no de-facto standard for comic book page dimensions in the United States, one of the most common sizes is 6.625" wide by 10.1875" high (after trimming).
Other common form factors include the following:
Standard Japanese Manga: B4 paper (9.8" x 13.9")
Tankōbon (Japanese graphic novel): B6 paper (5.04" x 7.17")
European comics: A4 paper (8.27" x 11.69")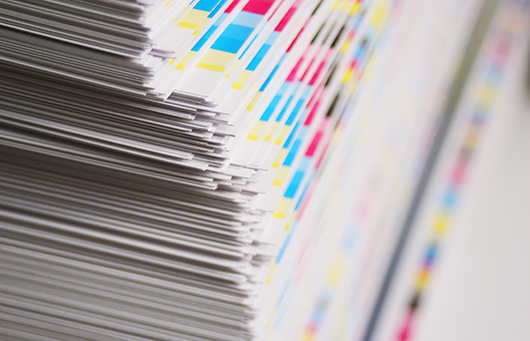 Printing Technique
The two main printing processes employed for comic books are offset printing and digital printing. The right choice for you depends mainly on the number of copies you intend to produce and sell.
Offset printing
Offset printing is the traditional comic book printing method. It is called offset because it does not transfer ink directly onto the sheets of paper as a conventional office printer would.
Modern offset printing works by color-separating a digital version of each page from your project's PDF file into four versions: cyan, magenta, yellow, and key (black), as per the CMYK principle.
When a sheet of paper passes through an offset printing machine, it moves through four rollers, each applying its corresponding color in order until the desired image appears.
Offset printing produces the highest image quality and is very efficient and cost-effective for large productions (300 units minimum).
Digital printing
Also known as online printing or printing-on-demand, digital printing uses similar technology to office printers, employing standard liquid ink or toner.
Although the image and color quality of digitally printed works is slightly lower than offset print, the difference is minimal.
The primary advantage of digital printing is its cost-effectiveness for small runs and low page count works (e.g., booklet printing). If you intend to produce anywhere between 1 and 300 units, digital printing is usually the only viable option.
Paper Type and Quality
Most comic books employ two different types of paper, one for the interior page and another for the front and back cover. Factors to consider when selecting your paper type include the paper's weight and its glossiness.
Paper weight
The paper's weight determines durability and suitability for color printing. The heavier the paper, the higher the printing costs.
Typical paper weight options for comic books:
70# offers a good balance between durability and costs and is the industry standard for full-color interior pages.
60# is cheaper but typically only used for black-and-white and grayscale-only pages.
80# is the minimum recommended weight for front covers, although they may go as high as 100#.
The average copy paper for home or office printers is usually no heavier than 20#, making it vulnerable to wear and tear and generally unsuitable for printing images.
Paper glossiness
An average comic book's interior pages usually employ matte paper. Covers use glossy paper, allowing them to stand out and giving them an eye-popping finish.
Some graphic novels may employ glossy paper on all interior pages, giving it a high-scale appearance that readers will appreciate.
Binding Type and Characteristics
The two binding options for comic books and graphic novels are saddle stitching and perfect binding. The right choice for your project depends on the number of pages, and there are multiple factors to consider.
Saddle Stitching
A saddle stitched book(staple binding) is made from multiple folded sheets of paper stapled together, making it an inexpensive process. Saddle stitch binding requires your page count to be low (8 to 64 pages) and divisible by 4. Therefore, your options are 8, 16, 32, 48, and 64 pages.
Perfect binding
Perfect binding is also known as square bound or glue binding and is the best choice for high page counts (from 32 to multiple hundred) or books that do not have a page count divisible by 4. Perfect bound books are more expensive because the process employs binding glue instead of staples. However, the result is higher-quality books that last longer.
The Takeaway
We offer printing services to individuals and companies looking to get the best printing quality possible at Comix Well Spring.
Take advantage of our low minimum order, just 25 units, and our easy-to-use online printing services to choose the best printing materials. For any questions or requests, call our customer service line at (734) 927-0044.