When you are ready to print your comic book or graphic novel, it is important to find the right printing company. The printing company you choose determines the cost and final appearance of your project, so it is beneficial to choose a company that specializes in comic books to get the best product.
When choosing a comic printing company, consider elements like affordability, industry knowledge, quality of products, customer reviews, and a variety of product options to make your final choice.
Assess Affordability
An important aspect of choosing a comic printing company is to assess the affordability of its services. Although you should expect to pay a decent amount for high-quality printing, the cost should still be reasonable and affordable.
To find out the cost of printing your comic book, visit your potential printing company's website. Choose the type of product you want to print, for instance, a saddle stitched binding product, and input basic information to get a quote.
Another pricing factor to consider is whether or not the printer offers bulk pricing discounts. This type of discount can save you money when you buy a large quantity of books. Comix Well Spring offers several bulk discounts, ranging from 5% for orders of 251 to 500 to 30% for orders of 2,001 to 5,000.
Investigate Experience
Before choosing a printing company, investigate their experience in the industry. There are plenty of decent book publishing companies that can print regular print books. But for your comic book, it's imperative that you choose a printer with experience in printing comic books and graphic novels.
Explore the potential company's website and gain a feel for what they do. Do they s pecialize in printing comic books, graphic novels, and comic-related products? If so, try to discover how long the company has been operating and its mission statement. The more focused the printer is on the comic industry, the more likely they will provide you with the design experience and printing technology necessary to obtain a great finished product.
Browse Product Selection and Services
As you narrow down your search for a comic book printer, take time to browse their product selection and services. Check to see if they print using the type of binding you want and whether or not they offer additional products for marketing or business purposes. Ask yourself the following questions when browsing:
Do they offer the comic book size you prefer, such as the standard 6.625" x 10.25'' or manga 5.5" x 7.75"?
Do they offer perfect bound books, saddle-stitch, or both?
Do they offer full-color printing in addition to black and white?
What is the minimum page count for a comic with a perfect bind?
What paper weight choices does the printer offer?
Do they print on demand?
Do they use offset printing or digital printing?
Do they offer resources to help you with page layout or formatting questions?
Do they use uncoated paper or glossy paper?
As you look through their available services and products, you can better understand whether or not the printing company is right for your needs.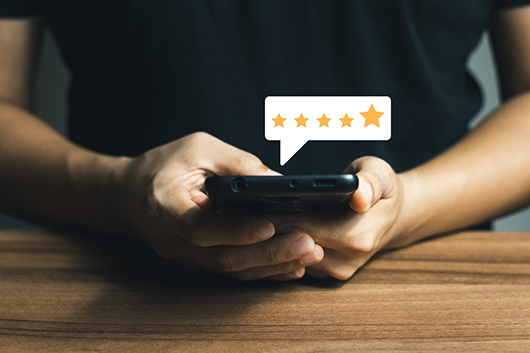 Read Reviews
In today's digital age, online reviews are similar to word-of-mouth referrals in that they are becoming one of the most trusted sources of information regarding a prospective business. You can always ask friends and family. However, unless they are in publishing or have self-published a comic book themselves, your best option for "in-person" reviews is online. When choosing a printing company, use these reviews and check them out before deciding on a final publishing option.
When looking at reviews, pay attention to what the customers say about the printing company's customer service, turnaround time, printing quality, and ease of online ordering. Check for multiple five-star ratings and genuine testimonials, then go with a company that has a long-standing history of satisfied and repeat customers.
Choose Comix Well Spring as Your Printing Company
Comix Well Spring is a comic book printing company with ten years of end-to-end comic book printing experience. We boast several five-star customer testimonials and offer a wide range of comic book and graphic novel printing options, including size, shape, paper type, and ink colors.
We are a one-stop comic book printing company that also offers multiple marketing and business products so that you can get the word out about your professional printed product.
Give us a call at (734) 927-0044, or send us a message online with questions about our printing process. We are here to help you realize your dream of publishing your comic book or graphic novel.