To make your comic book project successful, choosing the right format throughout the creation process is essential. The format can refer to the way you write your story, the type of illustrations you create, and how each element is laid out on the page.
Formatting also references the physical printing elements you chose, such as paper type, size, and binding style.
Discover how to choose the right format to create and print your comic book successfully.
Choose the Right Story Format
When you begin creating a comic book, the best place to start is with the story. Comic books are a visual storytelling medium, so they require a great story to base their vibrant illustrations on.
Once you draft a narrative, start to think about how to lay it out in your comic book. Find various comic book templates you can work with to format your words into different frames and panels.
Independent comic book creators have complete creative control over how they layout their comics, so feel free to experiment and find what text format works for you. However, you may want to keep basic formatting principles in mind. These principles include:
Splitting up text-heavy sections into multiple frames

Using bold one-word exclamations to convey action or emphasize a point

Eliminating exposition or dialogue that doesn't go with the overall genre of your comic book or graphic novel
Choose the Right Illustration Format
To ensure you format your comic book for success, choose the correct illustration format. The best way to accomplish an illustration format that works for your story is to sit down with your comic template and consider how your illustrations can help move your story along visually. Comic book artists use panels or frames to help a thought stand out in the storytelling.
Various panel designs include:
Close-in headshot or a close-in shot of an object

Distance shot

Silhouette shot

Action shot

Foreground/background shot

Overlapping panels

Panels with gutters
Another aspect of your illustration formatting is the type of illustrations you make. For instance, superhero comics often use bright colors and high contrast to bring the story to life. Standard comics in the noir and manga genre use black and white illustrations for somber tones. The inking and coloring you choose help you tell your story with colors and exciting visuals.
Choose the Right Printing Elements
When you are ready to print your comic book or graphic novel, choosing the right printing elements is essential to format your project for success. Before deciding on your printing elements, choose whether you want your book digitally or offset printed. Printing elements to decide on include paper type, binding type, and page size.
Paper type
Paper type is crucial because it can give your comic book a professional finish. When you use a printing company like Comix Well Spring, you have the option to choose between matte and glossy paper for your comic book.
Binding type
If your project is less than 64 pages, saddle stitch binding is an ideal choice. This type of binding is also called staple stitch because it uses staples to bind the pages together. Staple stitch is an excellent, affordable option when you are just starting out.
With longer projects, like graphic novels or manga, perfect binding is the standard choice. Square bound comic books use binding glue on the spines to hold the pages together. This is the type of comic that big-name comic book publishers put out and lends a slightly more professional look to your work.
Page size
When it comes to page size, standard is better for wide-reaching success. Choose the 6.625" by 10.25" option for a standard comic book size, 8" by 10.5" if you want a magazine-sized option, or 5.5" by 7.75" if you are writing a manga piece.
Choose the Right Marketing Tools
To make your comic book as successful as possible, consider marketing tools and techniques along with your formatting elements. Independent comic books need promotion to reach their audiences, so prepare to share images or sneak peeks of your comic book on social media.
Also, use marketing materials, such as retractable banner stands or bookmarks, to promote your work at local author signings and industry events.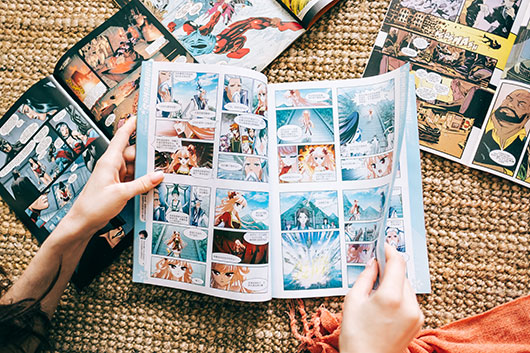 Choose Comix Well Spring to Print an Attention-Grabbing Comic Book
Formatting your comic book for success requires planning and experimentation in the early stages. First, write a killer story and format it onto the page. Then, create your illustrations around this layout while thinking about how they visually move the story along. Finally, choose the right physical layout elements for printing, and use marketing tools to get the word out about your book.
For professional printing services that will make your comic book stand out and grab readers' attention, choose Comix Well Spring. Visit our easy-to-use product pages to upload your comic book files and receive your printed comic books in as little as two weeks.