Comic book enthusiasts sometimes decide to write or draw their own comic book, but breaking into the published comic industry is a challenge. If you plan on self-publishing comics, you should make sure each comic page is as polished as possible and formatted to appropriate specifications. You'll need to be prepared to do the work of designing and lettering the final files yourself, too.
If you want to create a comic book for educational purposes, you can try using an online comic strip maker with drag and drop pictures and word balloons. However, successful indie comic artists put their own unique character art on paper, even if their art isn't as polished as professional artists.
You can use computer software to help with creating a comic book. Digital art usually produces cleaner, sharper art and has plenty of features to help you fix minor mistakes along the way. Even if you're an amateur artist, you can create emotive, convincing art that clearly conveys the story you want to tell without an editor.
Story Size and Format
First, you'll want to decide the size you'll be printing your final product at. Although you can technically change the print size later, changing it after you've started drawing it may affect print quality or require significant reworking.
The three most common sizes are standard, manga, and magazine, with manga being the smallest at just 5.5" x 7.75" trim size. However, you can also print custom sizes, including square books, if you want to try a unique approach to storytelling.
You'll also want to decide if you'll be printing your comic in one long graphic novel volume, or as individual issues. This will affect your final file formatting process. You can have a maximum of 64 pages in a saddle-stitch staple bound issue, and each issue will require a unique cover or title page to identify it.
Getting Started
Some artists prefer to do as much of their comic book by hand, then scan it into the computer for clean-up, coloring, and lettering. Others prefer to do everything from the sketches to the final layers by hand.
The right method for you will partly depend on the comic drawing tools and software available to you. If you have a good drawing tablet available, you may find that doing everything digitally works well for you. Some artists have more experience drawing by hand sketch on paper, and do the lineart digitally for a cleaner final product.
Once you have the basics figured out, start drawing your comic on Bristol board or other paper with guidelines to help you keep your panels at the right size. Most professional artists recommend hand-drawing lineart somewhat larger than the final page size, so you can draw small details more accurately.
When creating a digital file for sketching or scanning, make sure that it's set to 300 dots per inch (dpi) and is sized to the final bleed size you decided on earlier. Use the printer-provided digital templates to ensure everything will print correctly, without any parts getting cut off during the trimming process.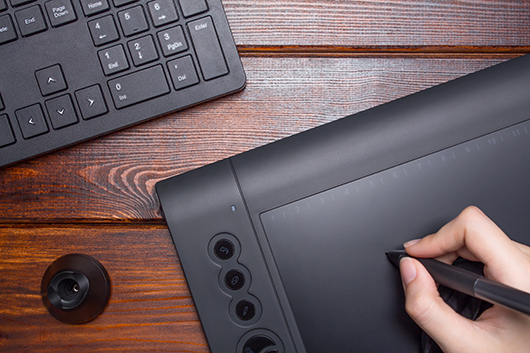 Using Software Correctly
There are multiple types of software available for drawing and designing your comic. Many artists prefer to use Adobe Illustrator or Photoshop, but others use Clip Studio Paint or another specialized comics application to complete their art. Some even use multiple types of software for various steps.
Whatever you decide, make sure to take advantage of the features your software has to offer. Keep your sketch, lineart, word bubbles and text on separate layers. Superhero comic books should make sure to place sound effects on a separate layer as well, in case their size needs to be adjusted later.
Make sure to export your final comic in a format that works for it. Comics that are only in black and white should be exported in bitmap (.TIFF) format to make the lines and text as crisp as possible. Grayscale and full-color art can use JPEG or Print Quality PDF.
Printing the Final Product
Once your final comic is finished, you can send it to a printer for final printing. Your printer will provide you with digital or physical proof to make sure everything prints correctly and let you know if any errors occur during the printing process.
At Comix Well Spring, we provide the customer service you need to print successfully, even if you're a first-time comic artist. Our order instructions and templates are easy to understand and use, and we're always happy to answer any questions you have.
We have a low order minimum of just 25 copies, so we're perfect for indie artists who are making comics for the first time. We also offer a range of banners, tablecloths, bookmarks, trading cards, and other custom-printed promotional goods. Call us at (734) 345-6805 with any questions about our services.