No matter what type of business you run, finding new and creative marketing strategies is crucial to spreading the word about your brand and ensuring customers remember you. However, instead of developing another online marketing program, consider physical print marketing tools such as custom bookmarks.
Custom printed bookmarks effectively promote your brand and can be used and distributed in various marketing campaigns for your comic book creations or related services. Discover how personalized bookmarks can help you market your business, convey a message, and boost brand awareness.
Why You Should Consider Custom Bookmarks
There are many reasons why you should consider printing and distributing custom-designed bookmarks for your next marketing campaign. Explore the following five benefits:
Marketing Efficiency
You can design your custom bookmarks with the same approach as custom business cards. They have enough space to feature your name, company logo, phone numbers, social media handles, and a list of products, services, and other essential information. They are also small enough to transport easily, serve a functional purpose for recipients, and don't require a huge upfront cost.
Practicality
If you're marketing to a customer base that enjoys reading books and other print works, a free, high-quality bookmark is a perfect gift. Your potential customers will likely use them often when reading graphic novels or comics, giving your brand exposure every time they open a book.
Cost-effectiveness
Custom bookmarks are a relatively cost-effective marketing tool. A professional printing service like Comix Well Spring can print batches of 25 to 1,000 high-quality, full-color custom bookmarks for an affordable price.
The Freebie Advantage
Everyone loves receiving freebies at a convention or a special event. A custom-printed bookmark is an excellent item to distribute at such events, fulfilling the same purpose as similar promotional items, such as stickers, pins, or patches.
Longevity
According to a 2016 study by the Advertising Specialty Institute, customers keep free promotional products of all types for seven months on average. A custom bookmark is a practical item that can last longer than other items because it rests between the pages of a book. Your customers can keep using it or pass it on to other people, continuing its brand awareness purpose.
Where to Use Your Custom Bookmarks
You can use custom bookmarks in various settings for your marketing campaign. Consider the following examples:
At a trade show, a convention, or another live event, distribute them to customers for free.
If you run an eCommerce business, include them as a free extra with your customers' online orders as a thank-you.
Insert them in direct mail marketing packages, such as mailers.
Partner with local businesses like libraries, coffee shops, or bookstores to distribute the bookmarks to their clientele.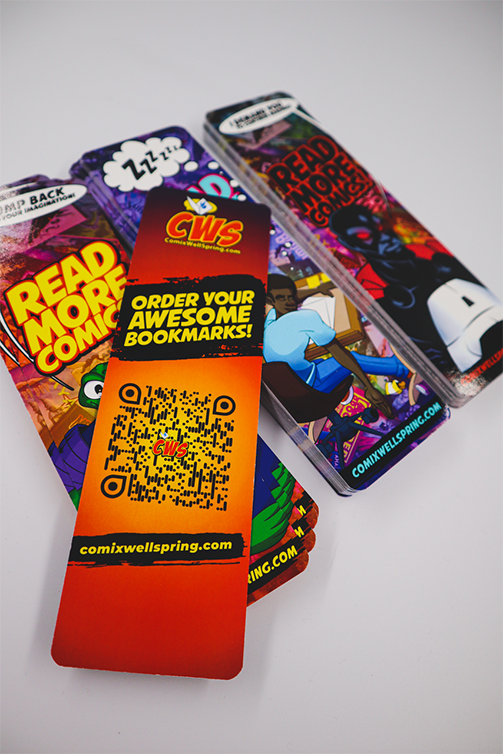 How to Design and Print Your Custom Bookmarks
When you are ready to print your custom bookmarks with Comix Well Spring, follow our easy 3-step online process to get started.
Format and Design
First, browse our size options and choose the format that best suits your needs. We offer the following bookmark sizes and corresponding aspect ratios:
2" width x 6" height (1:3)
2" width x 7" height (2:7)
2.5" width x 8.5" height (1:4)
After selecting the bookmark size, check the corresponding aspect ratio and design your artwork accordingly. For example, if you want a 2" x 6" bookmark, your artwork needs to fit in a 1:3 aspect ratio, such as 1000 x 3000 pixels or 2000 x 6000 pixels.
You'll also need to select whether you want your bookmarks to be one or two-sided, add UV coating to one or both sides, and choose your paper options. We offer 16PT coated paper, 130# matte paper, and 12PT holographic chrome card stock.
Upload Your Artwork
Design the art that will go on your bookmark, save it in an appropriate file format, and upload it to a file-sharing platform, such as Dropbox, Google Drive, or WeTransfer.
Inspect Proofs Before Signing Off
We will prepare proofs for you to inspect and verify the quality of your custom bookmarks before we print your batch. Ensure that every aspect and detail matches your needs and make any necessary changes before finalizing your order.
Work With Comix Well Spring for Your Professional Printing Needs
Comix Well Spring is a Michigan-based premium printing company with over 11 years of experience. We print comic books, business cards, custom bookmarks, and numerous other high-quality products for more than 7,000 customers worldwide. For more information, contact us at (734) 927-0044 .