Printing your own books is easy when you partner with a reliable full-color printing company. The most important choice you'll have to make is what print options will best serve your book, and an experienced printing company can guide you through the decision process.
Saddle stitching and perfect binding are both excellent options when used properly. Each binding option is only appropriate for certain page counts due to the technical limitations of gluing and stapling paper. Here's what you need to know about each type of binding.
Best Uses for Perfect Binding
Perfect bound books, also known as square bound books, have pages glued into place inside a flat spine. These books do not lay flat when left open, but they allow the printer to fit the book's title onto the spine.
Perfect binding is best for page counts of 60 or higher, plus the front and back cover. The number of pages can reach into the hundreds. The cover stock is made of a thicker paper than the interior pages for greater durability.
Perfect binding is the best binding method for graphic novels, illustration books, or novels. It's available in standard sizes like manga, comic book, and magazine sizes as well as custom sizes. As long as you follow your printer's formatting templates, your images and text will stay easy to read even when doing full-page spreads.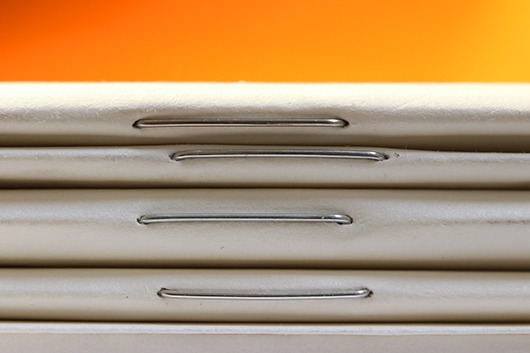 When to Use Saddle Stitching
Saddle stitching uses either thread or staples to bind the pages together without glue. This results in a book that has no spine and lays flat on the table when left open. At Comix Well Spring, we make our saddle stitch books with staples instead of thread.
Saddle stitching works for staple-bound booklets up to 64 pages, or 16 sheets of paper, plus the front and back covers. Page counts must be in multiples of 4. Since the art of book binding inherently requires multiple pages, the minimum page count is 4 pages, plus the covers.
Saddle stitching is the standard for individual issues of comic books and short booklets for advertising and sales. However, they tend to be not quite as durable overall because the staples can wear through the paper if handled roughly. Due to the limit on the number of sheets for saddle stitching, compiled volumes of comic books must use perfect binding.
Printing for Many Shapes and Sizes
Comix Well Spring is a subsidiary of Greko Printing, which allows us to be a full-color printing specialist. We offer rush production turnaround and shipping for books and provide the templates you need to make your product a success. Use our online ordering system to get started on your next project today.