If you're a die-hard comic enthusiast or considering self-publishing a comic book, it's important to learn everything possible about the printing process. The printing process includes several exciting steps, from choosing the size and paper type to selecting the binding to give your comics a professional finish.
The Pre-Printing Process
Before a project can be taken to the printing press, it must be written and illustrated. The script is usually written first and gone through panel by panel to ensure the story flows properly. If the author is not also the illustrator, they will often work in tandem to create an outline for the book, using small, thumbnail sketches to configure the artwork design.
Next, the comic book artist inks the pages, creates book cover art, and scans it all into a computer to create a digital art file of the piece. The digital format makes it easier for the artist to perfect the page layout.
Making Design Decisions
Comic books come in a wide variety of sizes and styles, which means the publisher or author has several printing options available to bring their idea to life. Decisions need to be made on the following design elements before the book can be printed.
Size
The industry-standard comic book is usually 6.625" x 10.25", although some books also come in sizes as small as 5.5" x 7.75" to books as large as 9" x 12". Comic book sizes depend on your budget because larger dimensions incur larger printing costs, while smaller sizes are usually cheaper.
Paper weight and type
At Comix Well Spring, our standard comics are printed with interior uncoated papers with a cover paper printed on a gloss cover card stock. However, there is a range of paper types.
We offer 60 lb., 70 lb., and 80 lb. paper weights—the heavier the paper, the more durable the comic. Heavy paper weights are most suitable for graphic novels and collected volumes, while lighter weight paper is better for single issues.
You can also include a foil, laminated, or extra-high gloss (UV-resistant) cover to minimize color fade. Our range of uncoated papers includes colors such as off-white/cream, silk, and bright white.
Binding
There are a couple of options available for binding. Square (perfect) binding is created using binding glue and is often used for larger comic books. Perfect bound books are durable with a professional look but are generally more expensive to create.
Saddle stitch (staple) is a more cost-efficient binding option for producing a comic book. This method uses small wire staples and is suitable for up to 64-page books.
Color options
You can print in full color or use black and white. Color printing is more expensive but generally makes a bigger impression on readers. Black and white books are often printed with full-color cover pages.
Printing company
Comic book publishers and comic artists send their products to printing companies that handle all the printing needs for comic books or graphic projects. Online printing companies allow you to submit your comic art files as a PDF file and then use these individual files to create physical comic books.
Once they have completed the printing process, you can request a proof copy to ensure your book will turn out as expected.
Writing and Illustrating
Once all the design decisions have been made, the comic should be reviewed to ensure the illustrations and writing are optimized for printing, including gutters, margins, and text size. The page layout must be refined according to the size and number of pages you have chosen in the design phase. Comic books bound with the saddle stitch technique should have an individual page count divisible by four.
Comic books can be drawn by hand or created with digital art software such as Photoshop CC and Clip Studio Paint Pro. Hand-drawn work eventually needs to be converted to a digital file to improve image quality and simplify printing. Text is often added digitally. Artists mark spaces for sound effects, word balloons, and narrative boxes using a blue pencil.
The Coloring Process
Comics were initially printed using spots of one color at a time. This method was replaced by the Ben-Day dots method of using smaller, closely spaced dots to create secondary colors and shades, resulting in richer illustrations. This method has now become an industry standard.
Modern comics are usually colored digitally. Using a code that relates the four base colors to the desired color allows the artist's vision to be brought to life. This is known as four-color printing.
Large sheets of paper are fed between rotating plates so that each side of the paper can be printed at once. Up to eight individual pages can be printed on each side of a single sheet.
Each sheet color is applied individually in four-color printing to create the finished effect. Other printing presses use four rotating plates to apply each color in a single pass.
After printing, the sheets are cut to the appropriate size and stacked in the proper order. Next, the pages will be bound using staples or glue.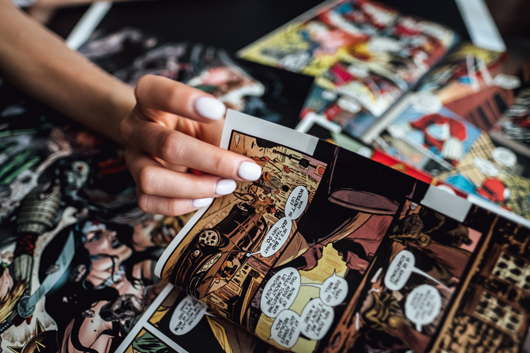 Bringing Your Book to Press
Masterful writing and artistry aren't the only things required to make a great comic book; comic creators and publishers must put thought and care into the publishing process to create the professional pieces people love to read.
Luckily, comic book printing services are accessible to hobbyists and professionals. Comix Well Spring offers high-quality comic book printing and excellent customer service. Call us at (734) 927-0044 today to learn how we can help you create your own comic book.