Even if you run a highly-acclaimed business, attracting new customers and retaining current ones can be challenging. Word of mouth is no longer enough to get by, especially in the internet age. Some businesses even resort to expensive giveaways like a free Kindle ebook reader to try to get attention.
You can grow your business in sustainable ways by ensuring your customer base always has your contact information and list of services at hand. Instead of relying on social media and internet advertising, give them something tangible to hold on to. Printed products are perfect for keeping customers' interest long after you've made initial contact with them.
Double-sided Business Cards
Business cards are easy to hand out at events and during meetings with potential clients. Business cards are considered standard in many industries, and your client may subconsciously think more highly of your business if you have one on hand.
Single-sided business cards are fine if your business is very straightforward. However, printing on the back allows you to list much more information about your business. Although you should avoid overwhelming your customer with information, this second side makes a huge difference if your company offers a wide range of services.
Double thick (32pt) business cards are even better since they are much more durable. You can even get the card's edge painted in a coordinating or matching color for an extra pop of color. These cards show customers that you're serious about making a lasting impression.
Full-Color Flyers
Flyers are ideal for various settings like trade shows, festivals, and even advertising on the street. They give customers information in a large and eye-catching format that works well for businesses that deliver attractive products and services. They also work well when posted on bulletin boards or other highly visible locations.
Black and white flyers work fine for some services and products, especially if you want your flyers to be text-heavy. However, full-color flyers make your company look more legitimate and professional. They make a huge splash when you first open your business and need to quickly drum up sales, but have lasting power, especially if you design them thoughtfully.
Like with business cards, make sure you don't overwhelm your customers with information. Use bullet points as much as possible and include a simple call to action at the end. Include basic contact information such as email and phone number, and consider including social media handles if your target demographic is under 40.
Custom Bookmarks
Bookmarks are long and thin, but they're an efficient way to keep your information within arm's reach. They can contain a surprising amount of information, especially if you make them double-sided. Using thick cardstock helps them hold up through extended use.
Bookmarks work especially well for bookstores, teacher supply stores, tutoring services, and any other company that caters to students or avid readers. They're also popular with self-published authors and comic book artists.
Make sure to make your bookmarks attractive in addition to containing your contact information, and consider designing some custom artwork so that your customers will hold onto it for a long time. Using a full-color photograph is also a good option if you don't have time to get a highly customized design.
Vinyl and Fabric Banners
Banners are great for events, but they also make a bold statement inside or outside your business. Vinyl banners are made of thick, durable material that's perfect for hanging outdoors. They're available in sizes ranging from 5' by 2' to 10' by 4', so you can get the ideal size for your space.
Fabric retractable banner stands make the most of your vertical space and help you stay visible at busy conferences. The printed area of these banners extends 80" high so that you can print beautiful photos or logos, but the stand and banner collapse down to a size that's easy to carry.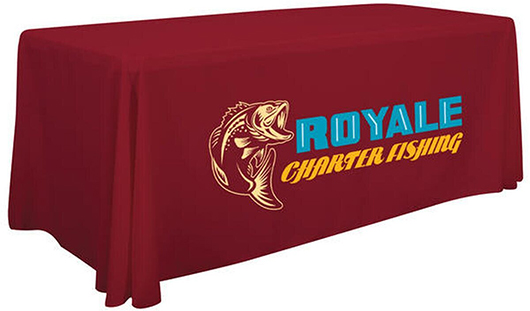 Logo Tablecloths
Tablecloths give your surfaces a sleek and clean surface for displaying samples, informational flyers, and more. By getting a custom-printed tablecloth with your logo, you can make your presence at trade shows and conferences even more memorable. Even when you're not at events, you can use the tablecloth in your office anywhere clients may be to keep your space as vibrant as possible.
At Comix Well Spring, we have a variety of tablecloth colors available and can print in full-color. Our tablecloths are made of polyester poplin that's durable and drapes beautifully over standard 6' or 8' rectangular tables. They have a large printable area that can show off a high-resolution version of your logo and company name.
Staple-Bound Booklets
Staple-bound booklets are an inexpensive way to put more robust informational materials directly in the hands of your customers. Instead of trying to direct them to a website that they may forget about later, you can get their attention immediately with full-color photos, testimonials, and more.
Informational booklets and catalogs can provide more information about how you run your business than business cards or flyers can. They have ample space for winning customers over with your skills and experience, which makes all the difference if you're a contractor, realtor, or another professional who takes on major projects in clients' homes or offices.
Although professional designers can help create a customized layout, most word processing programs also include templates for making each page look sharp. At Comix Well Spring, we can make sure your pages print with or without margins for a crisp and professional appearance.
Printed Goods for Small Business Owners
Comix Well Spring specializes in full-color printing, but we offer a range of printing options for all budgets and project types. We make it easy to order online with just your design files and a credit card. We make customer service a priority, so you can rest assured that we're here to help if you have questions about templates, formatting, or size options.
Our standard print turnaround is just 14 business days, and we offer rush options for both production and shipping. Contact our customer support team at (734) 345-6922 if you have any questions about how we can meet your needs.