A business card is more than just a piece of paper or cardboard with your company logo and contact information. Its function is to make an excellent first impression on potential clients, business partners, and fans of your comic book work.
Despite that, many people choose the do-it-yourself route when designing or printing business cards, which can be counterproductive. Explore the top reasons why you should trust a professional printing company with your business cards to boost your comic-related work and make an excellent first impression.
Guarantee of High Quality
A commercial printer like Comix Well Spring offers printing products and services of much higher quality than most private individuals can get at home. Their resources give them the tools to design and produce large numbers of high-quality business cards for their customers.
For example, professional printers have access to the following quality materials:
Multiple types of high-quality paper and card stock
Various paper thickness grades (16PT.card stock or 130# matte card stock)
Commercial-grade printing equipment
Higher-quality inks than most materials available to consumers
Cost-Effectiveness
Business cards are convenient marketing tools because they can help you promote your brand or business cheaply yet effectively. Even if you have a limited budget, a professional printer can produce unique business cards with consistent quality.
Comix Well Spring allows you to print your cards in batches from a low minimum of 25 cards up to 1,000 per order. A professional service scales up easily, allowing you to meet your needs quickly, and takes multiple payment options such as PayPal, credit card, or monthly installments so you can obtain cards whether you are just starting out or are an established entrepreneur.
Fast Turnaround Times
A professional printer can offer fast turnaround times for business card printing, so you receive your cards in time for important networking events, meetings, or conventions. With Comix Well Spring, you have several print and delivery timeframes to choose from.
Our fastest turnaround times don't include a digital proof and offer lightning fast production speeds of between 2 and 6 days. You can also opt for rush production to receive your business cards in 7 to 13 days or standard turnaround for delivery in 14 days or more.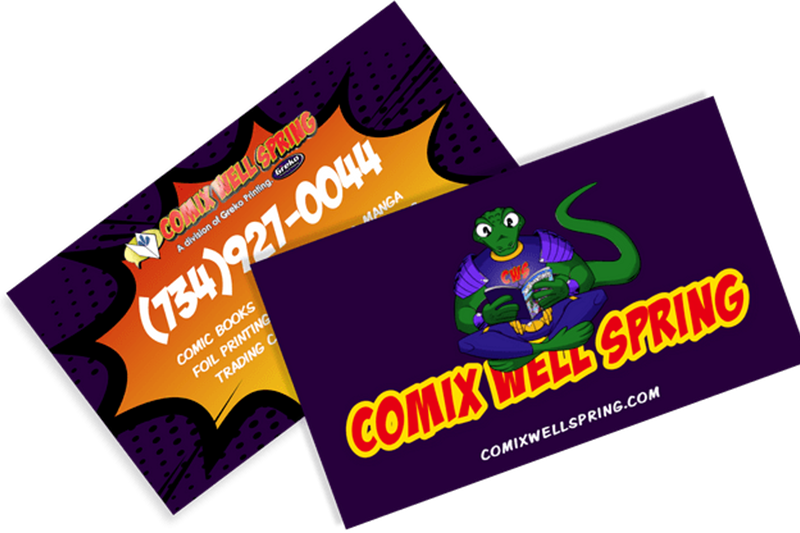 Physical Marketing Tool
Even in the digital age, business cards are still heavily used for comic book promotion. Compared to an email, which only 20-40% of people open, a professionally-made business card is much more likely to leave an impact on recipients.
As tangible objects, business cards are a physical reminder of the people and brands they represent. The higher the object's quality, the more likely a potential client or partner is to keep and reference it. Like stickers and other merchandise, well-made business cards are physical marketing tools that increase brand recognition.
When you hand out your business card to someone, it functions as a brand reminder every time they open their wallet, desk, or card storage and see your card again, making it more effective than most digital communication.
Design Versatility
Although business cards are small objects, a professional printing service has the tools to help you design the ideal card with all the essential information and elements. This versatility allows you to give your business cards a personal touch that sets you apart from your competitors.
Professionally designed business cards can do more than include your name, company, logo, contact details, and social media handles. To create a distinctive business card to promote your work, you can use the printing services' tools to incorporate different colors, gloss levels, patterns, and textures.
Templates and Print Options
If you can't spend the time designing the card yourself, you can still get professional-quality results with templates. Quality printing services like Comix Well Spring typically offer templates to fill out, modify and adjust so you end up with the product you envisioned from the start of the design process.
These templates walk you through aspects of business card layout, from bleed areas, dpi recommendations, and formatting suggestions. With a professional printer, you get standard-sized business cards that fit into any billfold or business card holder for easy transport and sharing capabilities.
Professional Printing Support
Whether you need general card design assistance or have specific questions about sizing, paper thickness, or colors, professional printing services have personnel with years of experience to assist you.
Comix Well Spring was founded in 2011 and has produced professionally printed products like graphic novels, comic books, and business cards for over 7,000 customers nationwide. We can provide you with the support you need to design and print business cards to hand out at comic shows and conventions and further your career as a creator.
Contact Comix Well Spring for Your Impression Needs
Comix Well Spring is an established professional printer adept at producing high-quality business cards for individuals and companies of all sizes. Whether you need 250 cards or 1,000, browse our options and obtain full-color, single or double-sided cards that will leave a great impression on your clients. For more information on our services, browse our informational blog or contact us at (734) 924-0044