Printing a book isn't as simple as just sending a document to a printer. First, you'll need to make several decisions about the format and type of book you're printing. If you're self-publishing, one of the most significant decisions you'll make is how to bind your book.
The best options for binding books are saddle stitch and perfect binding. Both have some technical limitations on formatting and the number of pages. However, they'll both create durable, beautiful books that your customers can cherish.
Saddle Stitch for Shorter Books
Saddle stitch is a binding method that uses thread or staples, not glue. This method works well with up to 17 sheets of paper, for a total of 64 interior pages plus the covers. For this binding option, page counts must be in multiples of 4.
At Comix Well Spring, we use staples for our saddle-stitched books to keep them as strong as possible. We carefully designed our printing and cutting systems to avoid page creep and other quality control issues. We also give you the choice of multiple cover stocks or self-covers, which use the same paper as the inside pages for a traditional comic book feel.
Traditionally, individual comic book issues or bound booklets for general business needs use saddle stitch. Our black and white printing options include color front and back covers. If you want multiple pages in color, choose our full-color printing, which provides crisp lineart and vivid colors.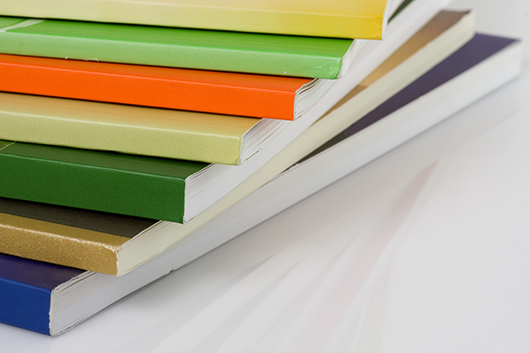 Perfect Binding for Graphic Novels
You need to bind books longer than 64 pages with perfect binding. Perfect bound books are also known as square bound books because they have flat spines that you can print the title of your book on.
This type of binding is slightly more expensive per page than saddle stitch. However, the pages are glued into place; they're sturdy and hold up even better than saddle stitch binding.
The minimum page count for this binding type is 60 pages. The maximum page count that you can order directly through our website is 260 pages, but you can contact us for a quote on higher page counts. This makes perfect binding the best option for longer graphic novels or compilations of multiple comic book issues.
Quality Full-color Books and More
Whether this is your first printing project or you've self-published dozens of books before, we know that getting the best results possible is important to you. Both our perfect bound and saddle stitch books have a standard printing turnaround time of just 10 business days, and rush printing and shipping options are also available.
We specialize in comic book printing, but our skills and equipment are perfect for handling any kind of highly detailed printing. We make sure both your images and text are crisp and defined, and our friendly staff can walk you through any questions you have about templates and formatting. Call us at (734) 345-6922 to learn more about our services.