Creating a stunning business for your small business card is not as difficult as it may seem. In fact, by following a few simple tips and tricks, you can
create a compelling and eye-catching business card that will stand out from the competition.
Explore nine of the best tips for creating stunning business cards that you can use to develop connections or market your services to grow your business.
Use a High-Quality Business Card Template
When designing your business cards, use a trusted business card template. Using a template produced by your printer, for example, this business card template from Comix Well Spring ensures that your design fits perfectly on your card.
Most business cards measure 3.5" x 2", so you can follow a template to get an idea of how your card will look when printed. Ensure that your text fits within the safety lines and that no important words or images go past the bleed lines to avoid losing important information once the printer cuts the cards.
Use High-Quality Paper Stock
One of the essential factors in achieving high-quality printing is the paper stock you use. Paper stock refers to the thickness and weight of the paper, which plays a significant role in how your final print looks and feels.
Thin paper stock is more likely to show bleeds (where the ink seeps through the paper), while thick paper stock can help to give your print a more luxurious feel. Lighter paper is generally less expensive but often feels flimsy and doesn't hold up with much handling. Heavier cardstock may cost more, but the cards last longer, resulting in a crisper, cleaner print.
Comix Well Spring lets you choose standard business cards in 16 PT gloss-coated or 130# matte card stock. We also give the option of double-thick die-cut business cards in 32 PT card stock for extra durability.
Add Graphics or Images That Reflect Your Brand or Business Identity
One way to help achieve strong brand recognition is by incorporating graphics or images that reflect your brand or business into your marketing materials. This could include using a branded logo or icon from your website or social media pages and incorporating images that reflect your company's values or mission statement.
Incorporating logos or brand colors into your business cards helps to create a cohesive and distinctive visual identity on your card that captures the attention of potential customers. It helps you build brand awareness and align with your digital marketing strategy.
Work with a graphic designer to create a brand identity that works with your web design and business cards for a streamlined presentation.
Make Sure Your Contact Information is Easy to Read
Your business card is one of the first impressions potential clients will have of you and your company. The font on your card should be clear and legible, and the layout should be simple and uncluttered. Focus on creating a clean, minimalist design that conveys your contact information and the services you offer.
Include all your essential contact information, including your name, title, company name, phone number, email address, and website.
A well-designed business card should be easy to read, memorable, and reflective of your brand. With a bit of thought and effort, you can create a card that makes a lasting impression.
Print in Small Batches to Avoid Running Out of Cards
While ordering a large batch of business cards may seem cost-effective, it can work against you in the long run. It may work in your favor to print in small batches instead.
Printing in small batches, for example, 250 cards, saves on inventory costs and allows you to change your title, for instance, if you get a promotion. If you switch up your brand logo, it also allows you to change other elements of your card, such as its font, colors, or images.
Using an online printing service like Comix Well Spring that offers on-demand printing lets you print in small batches rather than opt for hundreds or thousands of cards that you might not need. With on-demand printing, creating the perfect business card is hassle and commitment free, allowing you to print cards when needed.
Don't Be Afraid to Change Your Card's Look
Sometimes you need to take a step back and assess your overall marketing strategy. Are you communicating your brand identity and value proposition? If not, work on developing a more concise and compelling message in all your marketing materials, including your business cards.
Experiment with special finishes like U.V. coating, suede laminate, or card edge colors in green, blue, red, white, or black. If you choose U.V. coating, it can elevate the look and feel of your business card and give your business or project a more professional appearance.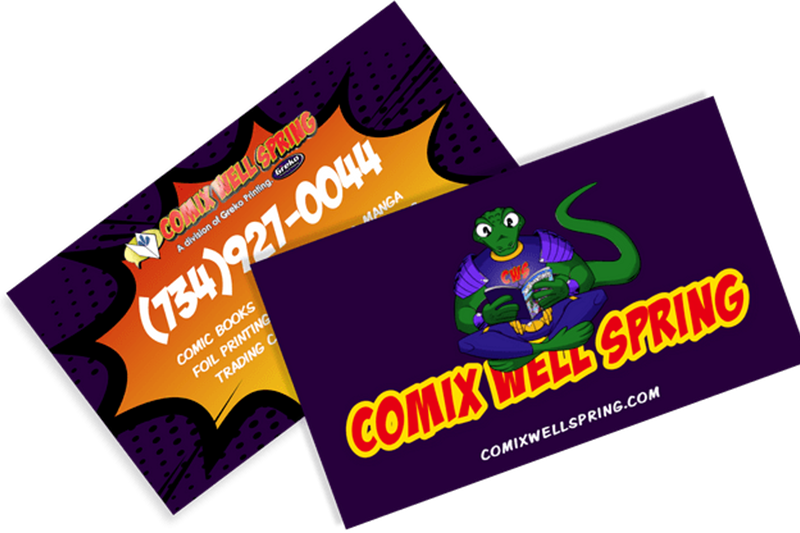 Include a Call to Action
Consider incorporating a call to action,(CTA) in your business card to encourage your audience to take the next step. When crafting your call to action, keep it simple and direct. Make it easy for people to understand what you want them to do at a glance, and include a sense of urgency.
Test different versions of your call to action to see what works best. Consider the following CTAs ideas to include on your card:
Tell the recipient to stop by your site and say hello or leave a comment
Invite recipients to ask a question or join a conversation on your social media
Offer a free service or product if the recipient scans a QR code
Encourage recipients to visit your website or call your business
Consider Keeping a Stock of Informational Business Cards On Hand
Consider designing and ordering two types of business cards: one for informational purposes and one as an eye-catching handout for trade shows or conventions.
If you work in a field that requires several pieces of information on your business card, such as the legal, financial, or technology industries, you may want to invest in a standard, double-sided business card. This card can house information like your business phone number, email, address, title, website, and services and be handed out to business associates when needed.
However, you may also want to have several more sleek, minimal, or colorful business cards on hand for less formal situations. For example, if you are a comic book author, handing out a simple yet vibrant business card with your name and website may be all you need for fans looking for a way to reach you.
Print Black and White and Color Versions
You may consider printing both black and white and color versions of your business card. Black and white cards are more professional-looking and convey a message of sophistication and credibility.
On the other hand, color cards are more eye-catching and can help you stand out from the competition. They also allow you to use your logo and brand colors to create a more cohesive look.
Whether you print black and white or color cards depends on your personal preferences and marketing goals. Printing both types of cards can give you the best of both worlds, ensuring you make a strong impression no matter who you meet.
Order Your Professional Business Cards From Comix Well Spring
With a professional printing service like Comix Well Spring, you can order new business cards that will lend staying power to your business, project, or services. We offer high-quality printing and excellent results for all our clients, whether you are printing business cards, bookmarks, posters, or graphic novels.
Call our helpful printing team at (734) 927-0044 or send us a message online to learn more about our printing services or how to get started on your unique business card design.