If you are a beginner comic book or graphic novel artist, the prospect of sending your comic to print can be a daunting task. While you would love nothing more than to hold the final print in your hands, the printing process of a standard comic book involves so much technical work that it can be hard to know where to start.
Handing the printing process over to professionals might also mean handing over final creative control, which you want to avoid. But making your own printed comic can be a lot of work, so where to begin?
If you want to print your own comic book, having a step-by-step guide to the printing process can be a huge help. Whether you are digitally drawing your comics or drawing by hand, the following steps can help you sort through the confusion and produce a great comic that you can be proud of.
Determine Your DPI and Print Size
One of the most important aspects of prepping your comic art for print is determining your preferred DPI and print size. DPI stands for "dots per inch." When your comic art is put to print, the printer will put colors onto the paper through small clusters of tiny dots. The resolution of this coloration is measured in DPI. The more dots per inch of your art, the clearer the color resolution will be. Higher DPI printing tends to be more expensive since it uses more ink.
However, lower DPI print can have its own advantages. In addition to being cheaper, lower DPI comic printing can create a unique visual atmosphere that matches a particular tone. Since comic book artists are visual storytellers, resolution is a tool that can help tell your story.
Determining your preferred DPI goes hand-in-hand with determining your preferred print size. A higher DPI on a smaller print size will produce a starker resolution than the same DPI on a larger print size. If you want to print your comic at 6.7 by 10.2 print size, you should play around with the DPI to see what works best for your vision.
If you are making your comic on a computer, keep in mind that the printed comic will likely come out at a different size than what you see on your computer screen.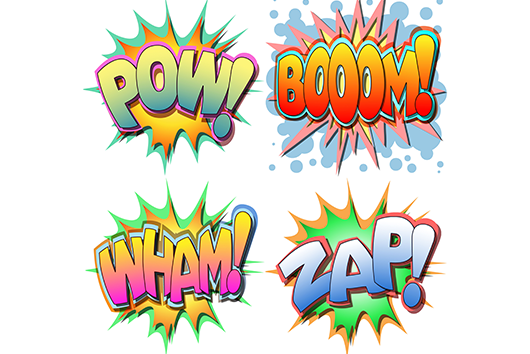 Work Out Your Preferred Paper Quality
Once you have figured out your preferred DPI and print size, the next step is to find the paper quality and binding that would work best for your comic. In most cases, you will have a choice between satin paper, gloss paper, and uncoated paper for your final product.
Generally speaking, uncoated paper is the cheapest, gloss paper is more expensive but offers good color contrast and shine, and satin paper offers a good balance between cost and visual result. This may seem like a minor choice, but the texture and feel of each sheet of paper will affect how your comic art comes across on the page.
Remove Template Lines
Most comic artists use template lines to sketch and develop each image in their comics. Template lines are usually drawn in blue pencil to stand out during the drawing process. Before your art can be sent to print, these template lines must be removed.
If you drew your comic art digitally, you can use several digital tools in your drawing program to remove them. You can usually color fill all of the blue lines into black or whatever color will work best with the overall color palette of your art. You can also use eraser functions to remove any extraneous template lines that stick out.
If you drew your art by hand, you may have to manually erase these lines or ink over them when you prepare your final draft. If you are publishing your art in black and white, you can usually trace these template lines with blank ink. You can often conceal template lines with other color patterns in each panel if your art is in color.
Finalize Your Coloring and Lettering
Finally, before sending your art to print, you must finalize your coloring and lettering. If you have word bubbles, dialog, or sound effects in your art, make sure they are clear and stand out against the background panels.
You should also finalize your color saturation and contrast with your preferred DPI and paper quality in mind. If you are drawing by hand, it's a good idea to make a test scan of a page to make sure that your colors are showing up in a digital format.
Print Your Own Comic Art with Comix Well Spring
Comix Well Spring has the resources you need to turn your vision into reality regardless of where you are in your career as a comic artist. If you have comic art that you would like to see in print, contact Comix Well Spring at (734) 927-0044 or send us a message to get started on the printing process today.