If you've ever dreamed of holding your very own comic book or graphic novel in your hands, you're not alone. And thanks to outstanding digital services, this dream is only a small step away from being a reality.
If you choose a capable, experienced printer, then the process will go smoothly. Our online printing service experts at Comix Well Spring can advise you on the choices that will make your comic a high-quality enticing book to look at and read. Options like matte lamination, gloss paper, gloss lamination, or uncoated paper are decisions you shouldn't have to make alone.
Whether you want saddle-stitched binding (also known as a staple binding) or a perfect binding is a decision you should make with a background of knowledge. Our online printing service staff can help you make the best decision for your creative endeavors.
The Creative Process
First and foremost, you need an idea. Maybe you want to create a personalized comic book for a loved comic book fan in your life, or perhaps you're a lifelong Manga enthusiast and want to make your imaginings a reality.
Write the story
Much like a television script or a screenplay, write your story out, including all dialogue, relevant information, and character overviews.
Make some sketches
If you're not an artist, you will need to find one to make your novel's graphic part happen.
Page layout
Sketch out the essential elements of the world or characters. If you're terrible and everything looks like chicken scratch, write everything that happens within each panel of your comic, with circles or shapes as placeholders for the images to come. Make sure to label all the forms.
Inking and coloring
You and your artists will focus on how the finished product will look. Lettering is an integral part of the coloring process, as well as choosing color schemes.
You can accomplish much of this creative process on your own. However, once you have a script and a good idea of the color choices you'll be making and what each panel will look like, you'll need an expert to come in and lead you through the formatting choices. Soon enough, you'll send a PDF file with your page count, and your book will be off to the printers.
Formatting Decisions
You will have to make a few critical decisions, with the help of an experienced online printing service, about comic book size, paper quality, and binding. These decisions can make or break your graphic novel's aesthetic.
Printing your comic book is the easy part because all the hard work comes before the printing process. Are you color printing your book, or is it a plotline that would benefit more from moody black-and-white? You'll benefit from the expertise of a professional while making these types of choices.
Sizing
The standard size of an American comic book is 6.7" x 10.2". This isn't just an aesthetic consideration. You want your graphic novel or comic book to fit on the shelves of a bookcase.
Some narratives benefit from an oddly shaped book (think of Walt Whitman's Leaves of Grass), but you don't want it to be cumbersome. Comic book sizes generally follow the expected trends so that they can be transported and stored easily.
Paper
The three main choices in the paper are satin, gloss, and uncoated. The choice you make for your comic will influence how the print and images look and how it feels to hold and flip the pages.
Satin is the industry's most common choice as it provides accurate results for a reasonable price point. Glossy paper has some shine and gives excellent contrast to the artwork and lettering. Uncoated paper is the most inexpensive choice of all three, with the individual pages having a slightly rougher and matte look.
Binding
You can choose between a staple-bound book which is the same thing as a saddle-stitched book, or a perfect-bound book. In a staple-bound or saddle-stitched book, the long pages are folded over themselves and stapled or sewn through the middle. A saddle-stitched book lays flat is an eco-friendly option because it does not waste book glue.
Perfect-bound books are the most premium and have squared off bindings. These types of bindings will cost you the most, and they look beautiful on the shelves. Another benefit of a perfect-binding is that you can read the title, author, and volume number of the binding as you're perusing a bookshelf.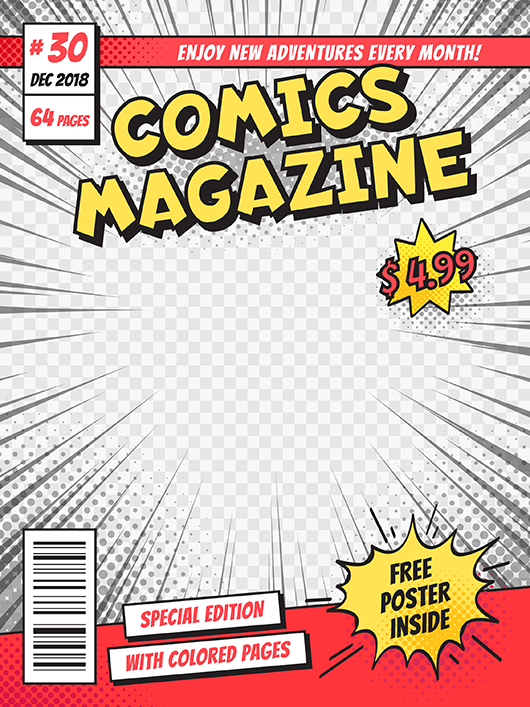 The Final Word
Creating worlds with words and images is an extraordinary gift. Telling stories has bound humans together since groups of people gathered around the first campfire.
If you have an inkling of an idea and want to see it to fruition, contact an expert printing service like Comix Well Spring. Before you know it, you'll be holding your very own comic book in your hands.