Custom comic book hardcovers make your collection unique. So, while everyone else has Steve Ditko's Spider-Man in single issues, yours can be bound together into one custom volume guaranteed to grab the interest of any comic book fan that walks by your shelf.
Not only will it make your collection stand out, but custom hardcovers offer a few other benefits, too. Binding also saves you space and makes your collection more accessible, so you'll be able to enjoy re-reads. They'll also make beautiful, personalized display pieces for your bookcases. Plus, it eliminates all those comic book storage headaches, like smudged pages, dogears, and torn covers.
Types of Binding
The first thing you need to consider is how you want your loose comic books bound. There are various types of hardcover binding options, including:
Glue
Gluing the binding is a good option for flexibility, but it's also the type of binding used for commercial hardcovers from companies like Marvel Comics and DC Comics, so you know you are getting professional quality. When you bind your books using glue, the spines are stacked on an adhesive base.
Generally, there are two types of glue: double-fan adhesive binding (DFAB) and polyurethane reactive adhesive binding (PUR). Both are good quality, but PUR adheres better to glossy finishes and is most commonly used in textbooks and yearbooks.
You can only glue about 25 issues together, which will make a 2" thick spine.
Binding with glue means that there will be some gutter loss (you'll see less of the interior artwork on the page), but the book will lie flat when open, making the bound copies easier to read.
Oversewn
In this type of binding, the books are sewn together multiple times, so you end up with a very durable spine. However, you will lose the most gutter with this option, and it does not lie flat like the other two options. In addition, you are limited to about 25 issues per binding.
Smyth Sewn (Sew Through Fold)
This type of binding includes the least gutter loss but can only be used with individual issues, not trade paperbacks. Instead of sewing through the spine, the staples of a trade paperback are removed, and the comic book is sewn through the fold to the spine. However, you are limited to about 18-20 issues if you choose this type of binding, and the spine must be rounded.
Edge and Spine Option
If you stack all your comics on top of each other, you'll notice they aren't all precisely the same size. When comic books are bound, sometimes these differences become more pronounced.
You can leave the edges uneven, or if you want a cleaner look, you can have them trimmed. The amount that needs to be trimmed varies, but to get a good sense of how much will be trimmed off the edges, look at the smallest book when they are stacked on top of each other. All three exposed edges will be trimmed if you choose to even them out, but most of the trim usually comes off the bottom.
You can also choose if you want a square or rounded spine. Both have similar durability, but a rounded spine can lay flat when opened.
There are some restrictions for spine options based on the type of binding that you use. If you use PUR to glue your spine, the spine cannot be rounded.
Cover Options
You have two options for your cover: buckram or graphic.
A buckram cover is a cloth cover similar to the ones you see in libraries. They are highly durable, and you can customize the color and the font, but there's no artwork.
Graphic covers are slightly more expensive. You can design a cover on your own or ask the printer to create one. Once you approve it, the binding company will print it on heavy paper, laminate it, and attach it to the cover boards.
Preparing Your Comics for Binding
Once you are ready to bind your comics, put them in the correct order, removing any pages you don't want to be included, like back covers or ads.
Remove the comic books from their bags and boards, and then put the entire collection (in the correct order) between two boards and use a rubber band or two to hold the collection together until they are bound.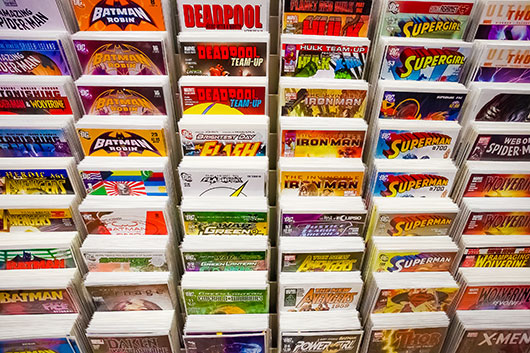 Tips for Binding Your Comic Books
Be patient. Wait for the entire run before you start binding, or you may end up with one volume of 20 books and another volume of five.
Consider the format of your collection. Some features you may like in individual comic books, like cardstock covers, make reading a bound collection more difficult.
Add some production value to your bound volume. Take the time to design a cool cover, and add a table of contents and page numbers. Add a ribbon bookmark, or add head and tail bands at the top and bottom of the spine. These details make the book look professional and like they were always bound rather than individual issues.
Consider the weight of the book rather than size. The heavier the book, the more challenging it can be to read, and you want to make sure the reading experience is too enjoyable.
Double and triple-check the spelling of everything you print on the cover and the spine. Once it's printed, you can't change it!
Don't bind your favorite run of all time first. Instead, bind a different run of something first to find out what your preferences are. Then, once you are sure what you want, bind that favorite run, so you're guaranteed to love it.
Print Your Own Comics at Comix Well Spring
You can use a custom hardcover to bind your own comic book creations together to create a special limited run. Imagine it: there on your shelf, next to a bound collection of Dark Horse comics, your own comic book omnibus.
At Comix Well Spring, we offer quality saddle stitch binding, and square bound paperbacks to bring your comic books to life. Our binding can easily convert to a custom hardcover, and our knowledge of comic book publishing can help you determine the best printing options for your work.