Literacy instruction is a complex area of study, especially when considering students' varying needs and learning abilities. Most approaches to literacy instruction have focused heavily on picture books for younger readers and simplified texts and charts for older readers who are still struggling.
In recent years, however, more teachers have become open to the idea of using comics and graphic novels at all age levels and in all classrooms. In addition to illustrating content for students, comics books can help improve overall literacy when used strategically with other texts.
Fun for Beginner Readers
Comic books are fast-paced and usually omit large chunks of narration. This makes them easier for young readers with short attention spans and ideal for older students who want something to enjoy if they're not fast readers.
More importantly, they contain large amounts of visual clues for readers. Even readers who can only understand 80% of the text can usually guess the remaining parts based on what's happening on the page. Eventually, the readers pick up the remaining words independently by seeing them enough times in the story's context.
This easy connection between the written word and the images on the page makes comic books ideal for sounding out and quickly confirming the meaning of new words. Like prose books with illustrations, comic books have ample contextual clues for students that confirm the story's meaning.
Best of all, readers don't usually realize they're using these skills because they are effortless and subconscious. Although younger readers often need to be taught to look for contextual clues on the page, this skill will stick with them for the rest of their lives.
Teaching Media Literacy
Media literacy is an evolving field that teaches students how to interpret a text in relation to the images around it. Traditional literacy instruction focuses heavily on literature, but media literacy is more important in the internet age than ever before.
Comic books and graphic novels help teach readers to look for clues in photos. Although detective stories are best for this sort of critical thinking, experienced teachers can use educational graphic novels and adaptations of literary classics to teach the same skills.
For example, a social studies teacher can use graphic novel adaptations of historical events and classic stories to teach students to hone in on the details of global affairs. Teachers can ask students to guess what obstacles a character is facing based on what is or isn't happening in the illustrations. Teachers can also ask students to compare and contrast the graphic novel with their textbook to check for historical accuracy.
Special Education and Reluctant Readers
Educators are increasingly appreciating the value of graphic novels for reaching readers who struggle with large blocks of text. Even students who read well enough for their grade level might not be intrigued by traditional prose fiction. Reluctant readers may need a nudge from a librarian who can point them toward sci-fi and fantasy stories to read instead of playing video games. An interest in the fictional topic may help elevate their reading level in the long term.
Graphic novel versions of classic novels may also help students sort through the key plot points and themes. Students with or without reading disabilities might also end up reading a classic without really retaining its key points, even if a teacher does a good job guiding the class in discussion. Allowing a student to use a graphic novel version of a book as a support after reading the main text can help drive students' motivation to engage with the original as much as possible.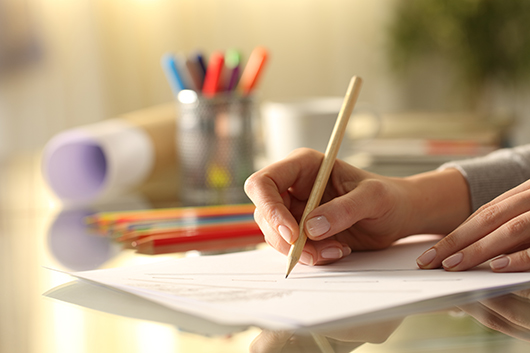 Comic Books and Strips as Assessment Tools
Once students understand the basics of comic book illustration and the conventions of the genre, they can try their hand at making their own short comics. Although comics can be time-consuming, some students find them a delightful way to show what they know.
This can be especially helpful for historical and literary concepts that are easy to show in sequence. Students can also use short comics to demonstrate their understanding of the plot and pacing of a story. Instead of writing a prose story, allowing students to create an original story in comic form helps them prove they understand the setting, climax, inciting incident, and other critical storytelling elements.
Special education students and English Language Learners (ELLs) may be especially appreciative of this format since it allows them to show that they understand the content without writing multiple pages of text. Once your students complete their comics, consider commemorating them with printed versions for the whole class to collect.
Your Partner for Printing
Teachers need all the help they can get for printing affordably, and finding a printer with low order minimums is a challenge. Comix Well Spring is your solution for printing small projects, from students' comic projects to bookmarks and other rewards. We even have easy-to-use templates to make your job as easy as possible, even if you're doing a print project for the first time.