For some people, reading is challenging. Letters swirl around the page and won't make sense in their minds. For people with dyslexia, reading words is no fun at all.
An expert with the Yale Center for Dyslexia has discovered important clues to circumventing standard reading difficulties by reading comics. With the help of these particular types of stories, presented in both imagery and words, reading can become fun again.
Here's more about how reading graphic novels or comics can help those who struggle with reading comprehension or have been diagnosed with dyslexia.
What is Dyslexia?
This learning condition makes it hard to comprehend written texts. Dyslexia can affect people of all age ranges, although the tests are different for adults and children. If a dyslexic person is read aloud to, they have no trouble following a narrative.
Those who struggle with dyslexia report that letters seem to swim around in the words, and it's hard to keep up speed when reading and writing. Graphic novels and comic books are tools to make reading more accessible to those with reading comprehension issues.
People with dyslexia are visual learners, so one of the strongest draws of the genre is that its image and art-based. It doesn't include large blocks of text that intimidate those with reading comprehension challenges.
Dr. Kyle Redford is an education editor at the Yale Center for Dyslexia and a fifth-grade educator in California who has done extensive research on using graphic novels to overcome reading comprehension issues. She also implements this knowledge in her own classroom.
How Graphic Stories Can Help
Dr. Redford notes that comic books help kids outmaneuver their dyslexia by picking up on the multiple story cues in graphic novels and comics. These clues aren't necessarily textual but could be an emotional expression on a character's face or an action.
As some describe it, reading a graphic novel trains your brain if you've struggled with reading in the past, to build a new framework for words and how they work. Much of the time, key plot points will be shown in textual and visual ways, so the dyslexic reader can begin to connect the words, what they mean, and how they look on the page.
Serif Fonts Matter
Another attribute of graphic novels is the font in which the text is written. The short excerpts facilitate reading, and there is often a lot of space around speech bubbles or thought bubbles to help them stand out. Bold text and large letters round out the other attributes that make reading comprehension much more manageable.
Researchers like Luz Rello, founder of Change Dyslexia, have conducted studies on different fonts and found italics can decrease reading speed, and sans serifs help increase it. However, there is still work to be done as the standard all-caps used for speech and thought bubbles in comics are tricky for dyslexic people to read.
All-caps was initially used because it was easier for letterers to fit into smaller spaces offered in a graphic novel's panels. There are attributes of the all-caps lettering comic books – with no tails on any capital "g," "y," "p," or "q," lines fit into the small spaces more effectively.
Recently there has been a proactive move to use more mixed-case lettering in graphic novels, specifically to be more accessible to people with dyslexia.
Speech Bubbles and Special Emphasis
Those challenging text blocks are uncommon in graphic novels, and for those with reading comprehension issues, this can be a great asset. In comics, dialogue and descriptive passages are broken down into multiple panels, giving those with a slightly lower reading speed a chance.
It's common in lettering to emphasize important phrases or words by bolding them or putting them in italics. These clues help a dyslexic reader learn that those words mean something important, building a vital reading comprehension foundation.
Engaging Storylines
It's not all about fonts and the size of the letters, although that's a large part of it, graphic novels also expose young readers to all sorts of stories, from modernized mythologies to accounts of the Holocaust, like Maus.
The approachable nature of graphic novels may lead the way to read these stories in text. At the very least, it helps dyslexic readers stay in the conversation.
Reading Macbeth and the graphic novel, Macbeth, are different. But if done well, using a graphic novel as an alternative text in class can help dyslexic students chime in on the conversation about the stories in a way they wouldn't be able to do otherwise.
Less text and more pictures aren't necessarily bad, as it can lead to more confidence in their reading abilities. Best of all, dyslexic readers will begin to derive greater pleasure in reading by using graphic novels.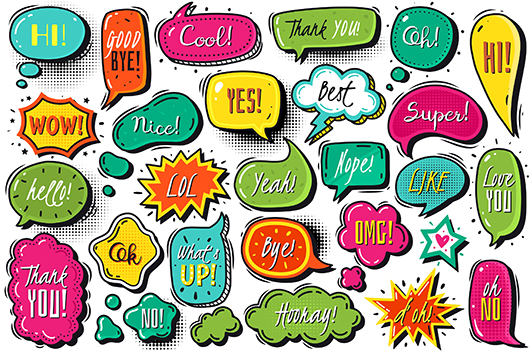 The Take-home Message
Dyslexic readers can improve their literacy development by reading graphic novels. The unique combination of story and images can sidestep reading difficulties presented by traditional text. And it's not just for young people either; a child with dyslexia will improve as much as a high school student or an adult by reading comics.
Graphic novels are gaining in popularity, and the scope and detail of the storylines are also ever-changing. If you're interested in creating graphic novels, contact Comix Well Spring. Our printing professionals can help you pick the right font and point size to make your story accessible to all readers.