Custom bookmarks are a versatile and creative tool for book lovers, businesses, and organizations. Whether you're looking for a promotional item for your brand or a coupon idea to boost sales, custom bookmarks offer endless possibilities. With a wide range of printing techniques and design options, custom bookmarks allow you to put your unique spin on this timeless product.
Explore several creative ways to use custom bookmarks and learn about the different printing and design options available.
Unique Ways to Use Custom Bookmarks
From book clubs to theater groups to retail stores, custom bookmarks can be used to spread joy, promote your brand, and support important causes. Some creative ways to use custom bookmarks include:
Promotional Giveaways
Trade shows and events are excellent opportunities to showcase your products or services, but they can also be crowded and competitive. To stand out from the crowd, you must offer something unique and memorable to attendees. Custom bookmarks make excellent trade show and event giveaways, as they're both practical and can be customized to your brand.
You can print your logo, website, or special offer on the bookmark to promote your business, generate leads, and encourage attendees to remember you long after the event is over. They can also be used as an effective follow-up tool after the event. You can include a unique identifier on each bookmark, such as a QR code to track which attendees took one. You can use this information to create a list of potential leads and customers you can follow up with after the event.
Party Favors
Tired of handing out conventional party favors such as sweets or inexpensive toys? Try custom bookmarks for unique and memorable party gifts. Design them to match the party theme or color scheme. These custom party favor bookmarks can be a hit at children's birthday parties, providing a treat for guests and a lasting keepsake for the birthday child.
Discount Coupons
In today's digital age, people still love physical coupons they can take with them and use at their convenience. Custom bookmarks offer a creative way to promote your business and reward your customers.
You can print a coupon code, QR code, or special offer on the bookmark and encourage customers to redeem it at your store. Whether you're a bookstore, library, or any other business, custom bookmarks as coupons help increase sales, reward loyal customers, and promote your brand.
Fundraiser Thank You Gift
Fundraisers are an excellent way to raise money for important causes and organizations, but they can also be a lot of work. Showing appreciation for your supporters is crucial to any successful fundraising campaign, and custom bookmarks make for perfect thank-you gifts.
You can customize the bookmarks with your organization's name, the event's date, or a special message of gratitude. Not only will your supporters have a tangible reminder of their contribution, but they can also use the bookmark to keep track of their reading, making it a practical and long-lasting gift.
Wedding Favors or Save the Date Cards
Give your wedding invitees an easy way to remember the date of your upcoming nuptials. A custom bookmark printed with the date and additional information, like directions to the venue or nearby accommodation, can be a thoughtful gift and a subtle reminder.
Your wedding day is one of the most special days of your life, and you want every detail to be perfect, including the favors you give to your guests. Custom bookmarks are a memorable way to thank your guests for sharing in your celebration.
Personalize the bookmarks with your names and wedding date, or incorporate a design or theme representing you as a couple. Your guests can use the bookmarks and be reminded of your special day every time they do.
Creative Printing Ideas for Custom Bookmarks
How custom bookmarks are designed and printed can greatly impact their effectiveness as a promotional tool. Consider the various printing techniques available to make the most of your custom bookmarks. From digital printing to foil stamping, there are several options to choose from, each offering a unique look and feel for your bookmarks.
Full-Color Printing
Full-color printing is a printing technique that allows you to print bookmarks in a range of vibrant, eye-catching colors. This method is ideal for printing detailed graphics, images, and text and creating dynamic designs.
One of the key benefits of full-color printing is that it allows for unlimited color options. You can match your company's brand colors, choose colors that complement your design or experiment with new and unique color combinations. Additionally, full-color printing is a cost-effective solution for businesses looking to print large quantities of bookmarks, as the cost per bookmark decreases as the quantity increases.
Spot Color Printing
Spot color printing is a technique that uses a limited number of specific colors to create your custom bookmarks.
Spot color printing is an excellent option for businesses looking to create a consistent and recognizable brand identity. With a limited color palette, you can ensure that your bookmarks match your other promotional materials and maintain a consistent look and feel. Additionally, spot color printing is often more affordable than full-color printing for smaller runs of bookmarks.
Debossing or Embossing
Embossing and debossing are printing techniques that create a raised or indented design on your custom bookmarks. These techniques add texture and depth to your bookmarks, making them stand out and feel more luxurious. Embossing and debossing are great for printing logos, images, or text and can help make your custom bookmarks truly one-of-a-kind.
Foil Stamping
Foil stamping is a printing technique that uses heat and pressure to transfer foil onto paper. This creates a shiny, metallic finish that adds an eye-catching and luxurious touch to your custom bookmarks. Foil stamping is ideal for businesses that want to stand out and make a lasting impression, and it's perfect for printing logos, images, or text in metallic colors.
At Comix Well Spring, we offer an extensive range of foil stamping options, including bold colors like gold, rose gold, silver, green, and violet.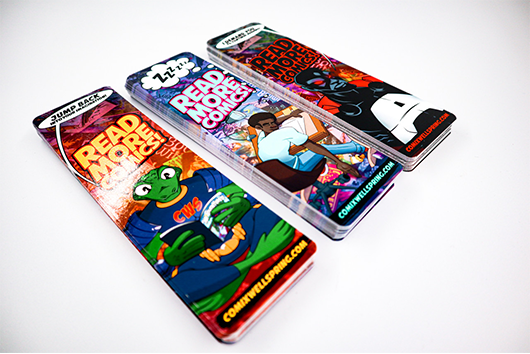 Partner With Comix Well Spring to Create High-Quality Custom Bookmarks
Whether you're looking for a cost-effective marketing solution, a consistent brand identity, or a unique and memorable keepsake, custom bookmarks are a versatile and effective option.
Comix Well Spring offers outstanding, professional printing solutions for a variety of marketing materials, from custom bookmarks to banners and flyers. Our user-friendly online ordering system streamlines the personalized design process, enabling you to complete orders within minutes.
To learn more about our materials, printing options, or design services, contact us at (734) 927-0044.