Businesses are always looking for creative ways to spread their brand message and services to their customers. Marketers have been relying on digital mediums for business growth over the past two decades. They have had to adapt to changing consumer habits, adjusting their advertising strategies to capture audiences on social media platforms and mobile devices.
However, online consumers are now overstimulated with online advertisements. Instagram users have grown accustomed to paid adverts and influencer posts, so online advertising has lost some of its luster. To break free from the digital clutter, many businesses are reverting to traditional forms of marketing to stand out among competitors.
Print materials, like bookmarks, are making their way back into marketing budgets. They are inexpensive and effective ways to add value to a product or service. A customized bookmark design shows customers that they are more than just a number. It is also a great way to promote your brand and convey direct marketing messages.
Benefits of Personalized Bookmarks for Businesses
Many companies recognize the importance of creating attractive and digestible informational materials. They prepare brochures, flyers, and physical advertisements for events, promotions, and sales. However, many of these items go straight from the customer's hand into the nearest trash can.
A bookmark is a practical item that can display important information or detailed branding. Unlike a flyer, a bookmark has a practical use, encouraging your customer to use it. Bookmarks provide a host of benefits for businesses, including:
Small and Convenient
Bookmarks are small and lightweight, so they can be distributed easily. Their size also makes them appealing to customers, who can easily slip one into their pocket or purse. Most bookmark printing services offer custom sizes, so you can choose one that best fits your customers' needs.
Affordable Marketing Tool
Print products are cost-effective, particularly when compared to digital or TV advertising. You can create custom prints for a special event, sending a personalized message to the target audience without breaking the bank. Bookmarks can also be printed with QR codes, incorporating your digital strategy.
Practical
Custom bookmarks are practical, especially for a literary crowd. They are perfect gifts for customers, adding a personal touch to your branding message. Since bookmarks are used frequently, a branded print ensures your company is consistently exposed to its target audience. They are a subtle form of marketing since customers view them as company gifts rather than direct advertisements.
Creative Bookmark Ideas for Businesses
There are several creative ways to incorporate bookmarks into a marketing strategy. Comix Well Spring is a professional printing service that provides beautiful custom bookmarks at affordable prices.
Simply upload your fully custom designs to make prints to your precise needs. Our easy-to-use website also offers ready-to-print design templates if you need quick materials for an upcoming event. Our high-quality bookmarks have a wide range of applications. Here are some creative ideas for using bookmarks from Comix Well Spring:
Business Cards
Custom bookmarks are ideal for novelty business cards. If you already have a standard business card design, it can be reconfigured to fit the dimensions of a bookmark. It is a simple but effective way to provide contact information and branding. Ensure your bookmark contains key details like:
Staff names
Phone numbers
Website URL
Social media usernames
Email addresses
Trade Show Marketing
Trade shows provide businesses with a fantastic opportunity to hand out promotional materials. Ensure your company stands out by creating branded bookmarks. If you've already prepared a promo package for potential customers, a small bookmark is a cost-effective way to add a little extra value.
Invitations
Bookmarks can double as invitations or event tickets. They can be printed with a scannable QR code or barcode to keep track of guests. Alternatively, you can design them with a tearable section, ensuring your customers can keep the bookmark after redeeming their invitation.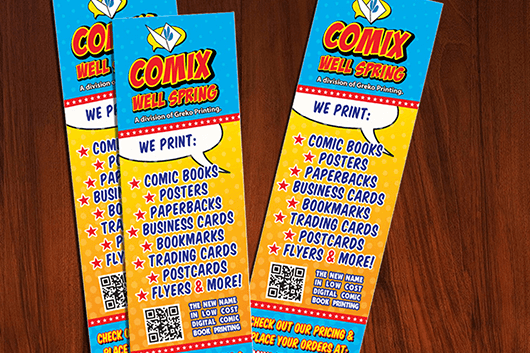 Free Gifts
Everyone loves a freebie, even if it's something small. Thoughtful gifts like bookmarks may not seem like much, but they are practical. Customers may not be willing to spend money on genuine leather bookmarks. However, even a casual reader won't turn down a free bookmark at the customer service counter.
For eCommerce businesses, adding a free bookmark with purchase can be an excellent way to build brand loyalty and encourage repeat business.
Brochures
If your business releases brochures periodically, consider adding a bookmark to highlight big savings or a particular product page. The bookmark has a dual purpose, advertising your brand long after the sale event has ended.
Coupons
Bookmarks can be used as loyalty cards or discount coupons for select items. Many people visit their favorite coffee shops to read and relax. Most cafes offer loyalty cards, where customers get a free drink after every five to ten purchases. A bookmark loyalty card is a match made in heaven for coffee lovers and avid readers.
Bookmarks can be used as redeemable coupons if your retail store is holding a sale event. This approach encourages customers to return to your store or reuse your service.
How to Create a Custom Bookmark
At Comix Well Spring, we offer a straightforward 4-step online printing process. Our bookmarks are available in a wide selection of design formats and paper materials, ensuring you receive a high-quality product that aligns with your brand. Our professional approach makes printing easy:
Free Quote
The first step is to get a free quote for your order. Our online quote system allows you to input precise order details so we can provide accurate pricing. Select key order details such as:
Print size
Card stock and paper types (e.g., 16PT paper stock, 130# matte, or 12PT Holo)
Print finish (e.g., matte finish, glossy finish, laminate finish, or U.V. coating)
Square or rounded corners
Order quantity
We also offer several delivery options:
Standard turnaround (14 or more business days)
Rush (7 to 13 business days)
Lightening fast (2 to 6 business days)
Create and Upload Your Custom Design
If you have prepared graphics, upload them directly onto our system using a file transfer link. We also provide ready-to-print and blank templates if you need help creating your designs. Then, we'll prepare your prints and send you proofs for inspection.
Inspect Proofs
Proof inspection is optional for customers. However, we recommend that you check all aspects of your print before finalizing the order. Ensure all images, color schemes, spelling, spacing, and information are correct. Once the order goes to print, we cannot correct errors.
Sign Off On Prints
Once you've double-checked your proofs, complete the process by submitting your bookmarks for print. Depending on your chosen shipping option, you'll receive your custom prints in a matter of days.
Professional Printing as a Cost-Effective Marketing Strategy
Print is an effective and scalable marketing option for virtually every business. Bookmarks, posters, and flyers complement digital strategy by providing convenient physical reminders of your products and services.
Comix Well Spring is a professional full-color printing company specializing in a range of high-quality paper goods. Our comprehensive service and streamlined ordering process ensure you receive promotional items quickly and easily.
We facilitate custom orders in various sizes according to your precise needs. Contact us online for a free quote.