Finishing a comic book is a moment of triumph, and it's understandable to be excited to move on to the printing stage. But before you rush your masterpiece to a printing company, there are a few critical factors you need to consider. Failing to do so may result in a printing disaster that doesn't do justice to your story and characters.
Versatility
Before you do anything, you need to see if the company has the printing technology to complete your project. Printing a comic book is a different process from printing business cards for small business owners or posters for local events, and not all places have the right technology to do your work justice.
Level of Customer Service
While the rise of digital print shops is convenient, it doesn't always offer the best customer service. Many companies accept digital submissions using an automated process, so no one will catch formatting errors or mistakes on your intake form until you pick up the order.
As a comic book creator, you need to interact with someone who can answer your questions, especially if you have never printed one of your comic books before. You should work with a company offering guidance and suggestions to lead you to the right choices for your comic book, not those looking to upsell you.
Value Beyond the Dollar
Look for companies that provide you with a dedicated contact person for your job or are easy to work with and listen to your concerns. Consider if they offer a turnaround that suits your needs or if they offer additional services that might make your comic book more appealing to your target audience.
These are elements you may miss out on if you only focus on the price to print when comparing printing companies.
Quality of Materials
Even if you use high-quality materials to draw and ink your comic book, your comic book won't come out the way you want it if the printer doesn't use quality printing materials.
When looking at a printing company's quality of materials, look specifically at color, paper selections, and finishing materials like covers and binding glues and threads. While using lower-quality materials can save you money, a comic book printed on low-quality paper may lower the value and appeal of your work.
Reputation
What previous clients have to say about a printing company can help you determine how well it will meet your needs and whether it meets your standards of quality. Check out their online reviews, browse comments on social media, and read testimonials on their website.
Also, knowing how long they've been in the printing industry can help you determine the quality of their print services. Explore their website and read their about page to find out more about the company and the staff they employ.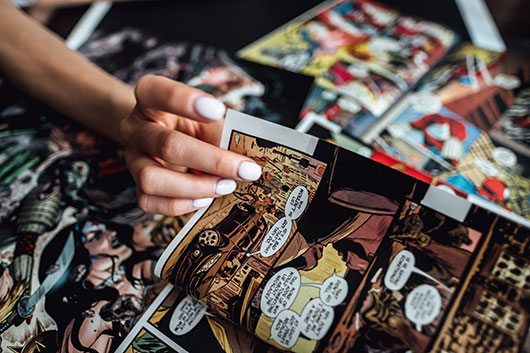 Let Comix Well Spring Be Your Choice for Your Next Comic Book Print Job
Comix Well Spring is proud to offer high-quality comic book printing services with a superhero-like quick turnaround time and unmatched customer service. Comic books and graphic novels have been our specialty since we were founded in 2011, and we've printed more than 7,000 comic books and graphic novels in that time.
Whether you are printing your first comic book or your 50th, we will do our best to help you get the result you want. But don't take our word for it; read our glowing testimonials and then give us a call.