If you are nearing the printing stage of your graphic novel project, you may have several questions about what makes a quality finished product. Graphic novels differ from comic books, both in design and content, and they require special attention to detail during the printing process.
To help you better understand what goes into graphic novel printing and what key elements define a high-quality finished product, explore these facts about comic book and graphic novel printing from Comix Well Spring.
Size Options
The size of your graphic novel makes a big difference for your readers. For a quality product, you want to print your graphic novel in a size that makes sense for the type of content you are putting out and matches what your audience expects. You also want to ensure your artwork transfers onto the page size in crisp definition, and choosing the right size helps this happen.
Most graphic novels follow the custom sizing option of 6.625" by 10.25", although Comix Well Spring does offer a customer option of up to 9" by 12". If you specialize in manga, your square bound book, which uses glue rather than stitches, should be sized at 5.5" by 7.75" for best results. Opt for the 8" by 10.5" sizing option if you are going for a magazine-sized graphic novel.
Binding Type
Most graphic novels use a binding called perfect binding, also called glue binding or square bound. This type of binding uses glue to hold pages together inside a professional cover. It is ideal for graphic novels because it allows for 260 plus pages, a much higher page count than the saddle stitch bound format, which is better suited to shorter comic books.
In addition to fitting better, glue binding also gives you graphic novels a more professional appearance. The spine allows you to print the title and author information where customers can see it, which helps you sell your book more easily in retail stores or book fairs.
If you plan to have multiple parts to your graphic novel series, the spine and cover of a square bound project also give you space to include this information which is helpful for fans searching for specific volumes.
You may not be ready to print a full square bound graphic novel if you are just starting out. With Comix Well Spring's staple stitch binding option, you can create smaller works, under 64 pages, to get a feel for the self-publishing process.
This is a good idea for those who want to slowly build up a fan base and grow their creative muscle until they are ready to create a full-length graphic novel project.
Paper Type and Finish
The paper type you choose is one of the most essential elements of your graphic novel. The right paper helps the vibrant colors of your illustrations pop. With Comix Well Spring, you can choose from several paper options and finishes.
Our standard cover is printed on 80# with a UV gloss finish or 12 point paper stock. Our standard option for the paper inside your project is 60# uncoated. If you envision something different for your graphic novel, we also offer 70# uncoated and either 20# or 60# cream/offwhite uncoated paper for text-only.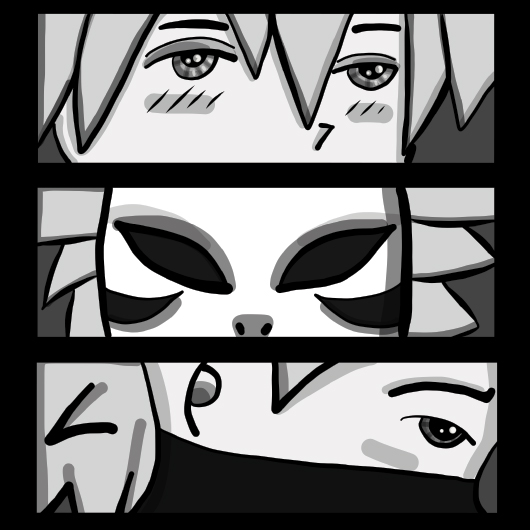 Image Resolution and Colors
A graphic novel is a visual experience, so not only does the paper type matter, but the image resolution and colors you choose make a difference in the quality of your project.
These choices come into play when you are illustrating your work. However, you can choose color or black and white during the printing process. Generally, full color printed pages are best for action or superhero projects, while black and white work well for a thriller or mystery.
When thinking about colors and paper size, also think about the image resolution. This is expressed in "dots per inch" (dpi). In digital printing, the printer creates an image on paper with colored dots. The more dots the printer puts down, the crisper the image appears. Taking this into account, the higher the dpi, the higher the resolution of the image, the higher quality image your readers can enjoy.
For the best results for your graphic novel printing project, aim for at least 400 dpi when illustrating your work. Between 400 dpi to 600 dpi works well for the standard graphic novel size, while higher resolution works best for larger projects.
Printing Type
The type of printing method used to create your graphic novel affects its quality. Rather than using offset printing, which has high set up costs and a longer wait time for completion, Comix Well Spring offers digital printing services for your graphic novel.
Choosing to have your book printed by a digital printing press is less costly than offset printing, and it allows you to see your finished product sooner. With digital printing, you can obtain physical copies of your book in about two weeks, with options for express printing in as little as two days.
Digital printing gives you custom printing options that offset printing doesn't allow because of its preformatted nature. Digital printing prints whatever text and images you upload so you have more freedom for what you include in your graphic novel. It also allows you to print a smaller number of copies, perfect if you are just starting out.
Print Your Graphic Novel With Comix Well Spring
Comix Well Spring knows graphic novels. Since 2011, we have been perfecting the art of printing the graphic novel. Due to its unique characteristics, including layout, length, visual illustrations, and size, we strive to provide you with a professional quality finished product by offering multiple paper types, sizes, and binding options.
We pride ourselves on excellent customer service, so if you have any questions about how to self-publish your graphic novel, contact our team, and we'll walk you through the process.
Also, visit our blog, where you can find helpful articles about choosing the right elements when printing your graphic novel.