Self-publishing your comic book is more exciting than ever, thanks to the widespread availability of digital full-color printing. Instead of just publishing online or trying to print zines at home, you can get professional results without relying on a traditional publishing company.
Since you get to keep full editorial and marketing control of your work when self-publishing, you'll need to work on multiple skill sets. Formatting a comic book, marketing it, and managing all the small details that go into a story need to be done correctly. Even if you're not trying to make a living making comics full-time, there are some basic mistakes you need to avoid to keep your hard work from being overlooked.
Incorrect Formatting
Printing a comic book is more complicated than printing a basic document at home. This is mostly because comic books are printed at a slightly larger size than their final size, then trimmed to remove excess paper. This allows sharp marginless printing that fully immerses the reader in the story.
Printing is also different for comic books because you'll need to make sure small details don't end up cut off too close to the outside edge or the inside margin. Since comic books are staple-bound and lay flat, they usually don't have to worry about details getting lost because they're printed too close to the binding. However, graphic novels use a different binding process that can cause details to get squeezed between pages.
Always follow your printing company's provided templates and dimensions. At Comix Well Spring, we have pre-made templates you can use for formatting your standard, manga, and magazine-size comics. Keep all text and essential details at least 0.25" inside the margin, partly to make them easier to see and partly to keep them from getting cut off.
Also, make sure to check your proofs closely before giving us permission to print the full order. We offer you the option of getting a digital proof for faster turnaround, but a physical proof is strongly recommended if you've never printed with us before. A physical proof also helps make sure your colors turn out the way you intended, which can be tricky since colors show up brighter on a monitor than they do on paper.
Make sure your book cover design is formatted appropriately, especially if you're printing a graphic novel. For square bound paperbacks, your design needs to account for the spine's thickness, which varies depending on the final page count. For both staple-bound and square binding, make sure to include a brief yet exciting book description on the back cover.
Improvising the Story
Even if you're planning just a single graphic novel or a short comic book series, you need to make sure your story is carefully planned and thought out. A key part of the process is outlining and scripting not just the issue you're working on, but subsequent issues and the overall story's path. You don't need to script the entire series before starting the first issue, but like when you write a book series, you should avoid publishing the first installment unless you have some idea of how it will progress and end.
Traditionally published authors work with editors who can help them hone their work. Editors can help you find inconsistencies in your story or details that are unclear. Self-published authors must be twice as careful to make sure their plot works as intended and is clearly conveyed in visual form.
Also, don't forget to weave meaningful character development into your story. Your characters should grow and change over the course of the plot, and these changes should be planned in advance to make them natural and believable. Give your main characters some clear personality flaws and let them work through those flaws as the story progresses.
Only Publishing One Series
Publishing your books is a lot of work, but your book sales will partially hinge on how many books you've written. Readers like reading books from an author they already know and like, and are very likely to read a fresh series or sequel you create.
Having only one series available makes your marketing repetitive. You can continue to promote a series after it's over, but ideally, that marketing should be mixed with other, newer content for your readers to enjoy.
This isn't to say you should force yourself to create more work if you're no longer interested. If you're trying to build a successful side gig, though, you will need to come up with fresh material to keep your readers engaged and attract new readers who weren't as interested in your earlier ideas. Fortunately, your comic writing career will evolve naturally since writing each work will give you new ideas for the next ones.
Keep in mind that you can branch out and cover different genres or try a new format. Your readers have diverse interests just like you do, and you shouldn't worry about creating the perfect story just for them. Telling stories that you want to tell keeps your voice fresh and authentic.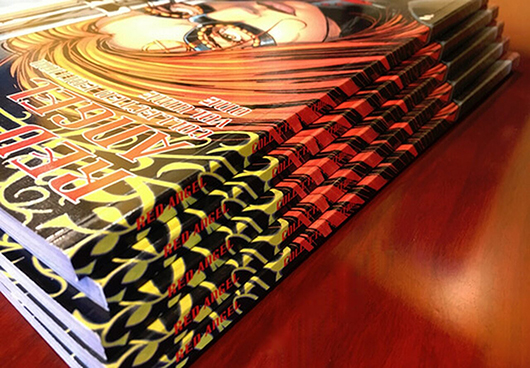 Limited Marketing or Availability
Advertising and selling your book online is a good starting point, especially if your comic caters to a niche audience. You can sell printed books through online stores or through a website you create yourself. However, most comic books sell through word-of-mouth or positive reviews, and the only way to get those as an unknown author is to put yourself out there.
You don't need to create an account on every social media platform. Twitter is very popular with creatives, and Instagram is great for reaching comic readers under 25. Facebook is popular with every age group, but most people use Facebook to connect with friends, not search for new things to read.
However, many fans seek the gratification of getting a book immediately, and hard copy editions are ideal for reaching fans who want to take a break from reading on their screens. Conventions and local independent bookstores are perfect for reaching comic book fans directly, instead of waiting for them to find you online.
In-person sales can be a real challenge in rural areas. However, making an effort to reach readers at nearby comic conventions is still worth it, especially if they're small and intimate settings. You can also see if your local library will keep a copy of your comic book on hand, especially if your work is family-friendly or the setting is someplace local.
Make the most of your in-person marketing and sales by setting up colorful and professional-looking visuals. A custom-printed tablecloth provides a beautiful backdrop for displaying your books. Also, try a vertical retractable banner stand for even better visibility.
Forgetting a Book Launch
Book launches are a big deal for traditional publishers because pre-orders generate hype and buzz all at the same time, increasing the likelihood that other potential readers will notice. Although generating this buzz or more of a challenge for self-publishers, it's still a potential game-changer that shouldn't be overlooked.
If you're publishing your very first graphic novel or comic book issue, your first book launch may end up being small. With subsequent issues, you can build on your existing fanbase. Make your launches interactive by asking questions of your fans on social media, inviting them to weigh in with their favorite characters or fan theories.
If at all possible, your book launch should include pre-order promotional bonuses like bookmarks or trading cards. These inexpensive extras are a worthwhile thank-you for your fans who anticipate the comic enough to pre-order it. They also give you a chance to show off more of your art.
Publishing Great Books
Independent publishing is the cutting edge of comic creation, especially since online ordering is easier than ever. You can bring your own stories to life without having to worry about appeasing traditional marketing and publishing companies.
Comix Well Spring is proud to provide full-color and black and white printing to independent creators. We have a full range of softcover book print options, and our order minimums start at just 25 copies. Submit your order today so we can get you the books you need to reach new readers locally and around the world.