Creating your own comic strip is more than just a fun and rewarding activity; it is an art form calling for many talents: illustration, writing, and design skills.
If you're a beginner comic creator, whether working traditionally or planning to build an online comic, you may have noticed that one of the more challenging aspects of creating a comic book is finding a suitable page size.
Browse our selection of professionally designed comic strip templates and jump straight to creating your comics.
Which Page Size Do I Need?
If you are a beginner comic maker, choosing the right page size may be challenging. There are many formats and standards to choose from, and it isn't uncommon for publishing houses to use slight variations on these formats.
The standard dimensions for an American comic book are usually 6.625" wide by 10.25" high (also referred to as 6-⅚" by 10-¼"). Other comic formats and graphic novels may not follow this standard. For example, a modern U.S.-published manga will usually be 5 to 5.5" wide by 7.5 to 7.75" high.
Dimensional Limits
The page size will influence every aspect of your comic project, from creation to printing. Here are the page dimensional limits you'll need to work with:
Trim line: The trim line is effectively the edge of your book, where each page will be cut. It separates the safe area from the bleed area.
Safe area: Also known as the live area. This area is the space where you can build your panels, insert your artwork, and add text and speech bubbles. When drawing, dragging, and dropping elements, ensure that all essential art and text remain within the safe area so they don't get cut off.
Margin area: The margin area is a 0.25" zone between the safe area and the trim line. The margin area gives leeway to potential printing imperfections, protecting your comic page elements from being cut.
Bleed area: The bleed area is the 0.25" zone past the trim line. When creating stunning artwork for your cover pages, you must ensure that it exceeds the bleed area, allowing the full page to be covered without blank spots.
Browse Our Downloadable Comic Page Templates
Comix Well Spring offers 4 professionally designed comic page templates to help you build your comic books.
Standard Comic Book
If you intend to create American-style comics or don't know which format to choose, this page size is an ideal starting point. Our professionally designed templates for standard U.S. comic books use the following dimensions:
Page size (trim line): 6.625" width, 10.25" height.
Safe area: 6.375" width, 10" height
Bleed area: 6.88" width, 10.5" height
Print Magazine
If your comic book is intended to fit the dimensions of a traditional print magazine, use our Magazine Size templates. This format features the following single-page dimensions:
Page size (trim line): 8" width, 10.5" height
Safe area: 7.75" width, 10.25" height
Bleed area: 8.25" width, 10.75" height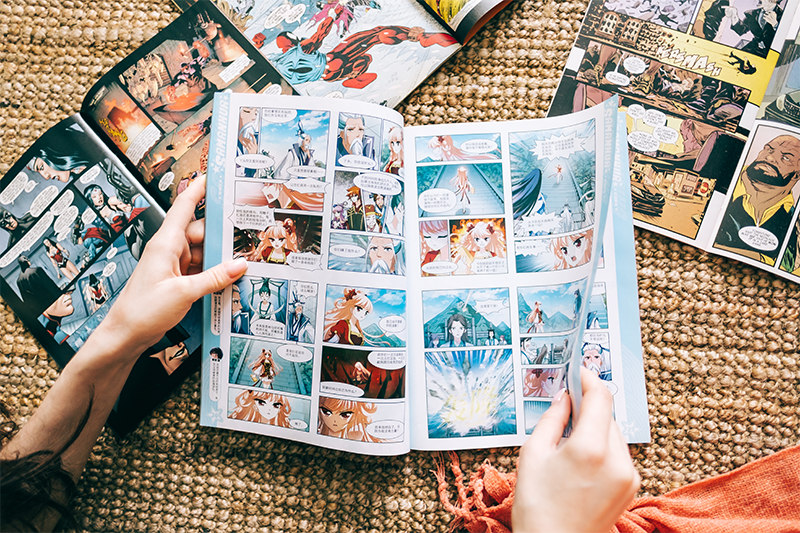 CWS Manga Size
This page size is ideal for budding mangakas and comic creators looking to fit their works in manga-sized books. Our professionally-made Manga page templates employ two dimension sets: standard American manga and our in-house CWS manga pages, inspired by Japanese trim dimensions.
Standard American manga dimensions:
Page size (trim line): 5" width, 7.5" height
Safe area: 4.75" width, 7.25" height
Bleed area: 5.25" width, 7.75" height
CWS manga dimensions:
Page size (trim line): 5.5" width, 7.75" height
Safe area: 5.25" width, 7.5" height
Bleed area: 5.75" width, 8" height
Letter Size Comics
Comic books using this page format effectively use standard U.S. paper letter dimensions. This option can be attractive to reduce costs, as it allows you to print your works on regular copy paper.
Letter size page dimensions:
Page size (trim line): 8.5" width, 11" height
Safe area: 8.25" width, 10.75" height
Bleed area: 8.75" width, 11.25" height
Choose Comix Well Spring For Printing Your Comic Book Project
At Comix Well Spring, we aim to support comic artists of all backgrounds and skill levels. Browse our free comic book templates and our other resources to help you make your printing project as easy as possible.
For more information, call us at (734) 927-0044 or contact us on one of our social media pages.