The question of how long it takes to make a graphic novel is entirely subjective. Every creative writing project requires different skills, and artists work at their own speed.
Comics and graphic novels are pieced together carefully, panel by panel. Some comic book writers can complete a graphic novel in just a few months, including coloring, lettering, word balloons or speech bubbles, sequential art, and printing. However, it can take years to finalize a comic or graphic novel due to the collaborative nature of the creative process.
Explore several elements that affect how long it may take you to create a graphic novel and how you can expedite the process.
Difference Between a Comic and a Graphic Novel
Although people use the terms interchangeably, graphic novels and comic books differ in many ways. Both visual storytelling mediums often relay stories featuring superheroes, science fiction, or fantasy.
Graphic novels are usually more textual than comic books, with longer stories often intended for a mature audience. They often feature black and white text or muted colors to match the story's tone. Comic books are more visual and typically feature shorter stories for younger audiences.
Graphic novels also tend to have more production value than comic books, with higher-quality paper and printing. Although some collectors carry both, graphic novels and comic books occupy different niches.
How Long are Comics?
The first comics were released in newspapers as short features. They usually appeared in cartoon form and were often serialized over a few days or weeks, with a new comic strip appearing in the weekly newspaper.
As newspaper comics gained popularity among readers, artists began creating full-length comic book issues with several pages of colored illustrations and dialog. Today, standard comic books usually feature a short story and are around 32 pages long. However, serialized releases, like Frank Miller's The Dark Knight Returns, can run a little longer.
How Long is a Graphic Novel?
There is no set length for a graphic novel; they can vary from 48 to several hundred pages. However, they are usually longer than traditional comic books. Many graphic novels are published in serial form, similar to a television series, and released as either hardcover or paperback collections.
Some popular examples of graphic novels include Watchmen (Alan Moore and Dave Gibbons) and The Walking Dead (Robert Kirkman and Tony Moore).
Graphic novels have only gained mainstream popularity in recent decades, following the popularity of Art Spiegelman's Maus, released in 1980. These days, graphic novels are widely considered an essential part of the literary world, and many libraries now carry them in their collections.
Writing a Graphic Novel
Keep a few things in mind when learning how to make a comic or write a graphic novel. Rather than worrying about how long the project may take, focus on developing a good story. A compelling and well-structured plot is the foundation of writing a story, whether it's a comic book or a graphic novel.
Once you have a story, you'll need to create artwork to accompany the text. If you're not an artist, you may want to hire someone to help you with this task or learn to use software like Adobe Illustrator.
It's also important to decide how to format your book. Most graphic novels are published in standard paperback form, but digital editions and online comics exist. Whichever format you choose, ensure your book is easy to read and the images flow well with the text.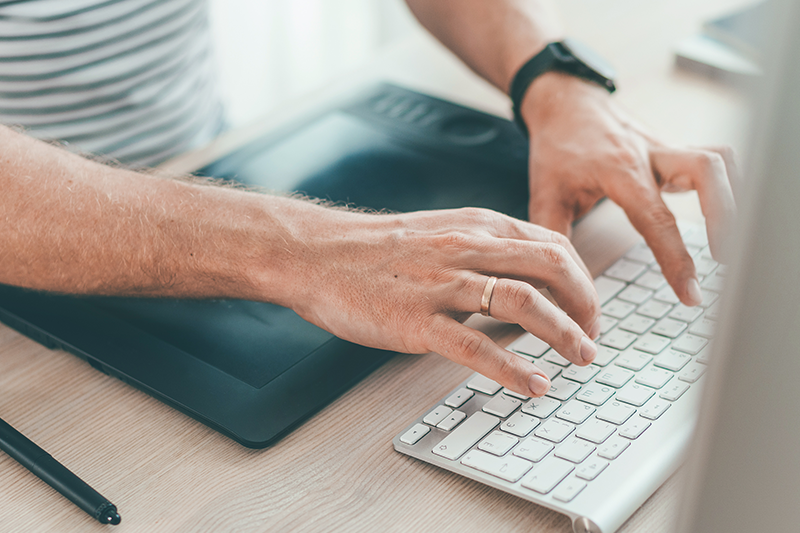 Tips for Making a Graphic Novel Efficiently
Without proper planning and preparation, making a graphic novel can take far longer than it needs to. While the time frame is subjective, there are ways to manage your work more efficiently so you can start and finish your project as quickly as possible. You can speed up the process by treating your comic project like a job, breaking up your workload, and finding an experienced and skilled publisher.
Treat it Like Your Job
The most challenging aspect of creating a graphic novel is finding the time to do it. You must manage your time effectively and stay consistent to achieve timely results. It's important to schedule work days and off-days so you can recharge your creative batteries while also staying on task.
Some writers and artists work well within a set timeframe. For example, you may set aside two hours each day to write or learn how to draw comics for your project. Alternatively, you may work better by gauging your output per word count or pages drawn. Consider creating an expectation for a specific amount of work to be done each day, and make a plan to hit your mark.
Break Up Your Workload
Breaking your workload into manageable steps can help you move the process along and avoid getting stuck. Consider the following steps to help you achieve your goals:
Come Up With an Idea
The first step is to come up with an idea. Look for inspiration from your favorite comics, movies, or books. Think about characters and stories that inspire you or fictional worlds or historical periods that interest you. Once you come up with an idea, start developing a storyline for your graphic novel.
Develop a Story Outline
For an efficient writing process, create an outline encompassing all your story's plot points to give it a good story arc. Make this outline as detailed as possible, including pages of backstories or character breakdowns. An overview can take up to a week to complete, as it should be thorough.
Write the Script and Dialog
Comic books are written in script format, like screenplays. Using a page of the script for a page of your comic book, go through and supply panel descriptions and characters' dialog. Writing a script for your graphic novel can take one to three months, depending on the complexity of the plot.
Create the Artwork
After completing the script, it's time for the artists to get to work. Sketching, coloring, inking, and lettering your comic book may take six to eight months. If outsourcing the artwork, you must also consider the artists' schedules. Pay special attention to your project's cover art. Covers attract potential readers, so creating an exciting cover is essential to your comic's success.
Picking the Right Comic Book Publisher
Once you have a finished product, you need a publisher. Printing your work only takes a few weeks when you use a professional comic book printer like Comix Well Spring. Professional publishers offer several printing options, including saddle stitch and square bound binding.
During the printing process, you can choose from various paper types and weights, such as 60# uncoated or 80# glossy, color or black and white, and holographic covers.
To choose the right printer for your project, opt for a professional company with experience in the comic book industry. Comix Well Spring can ensure you end up with a finished product that reflects the work you put into the project.
Becoming a Graphic Novel Creator
Everybody's creative journey is different, and the timeline for creating a graphic novel from story idea to finished book varies. When putting your creative energy into a graphic novel, understand that while it may take months or years to see it through to completion, the finished result is worth the time and effort.
Comix Well Spring is a professional, experienced publishing service that can help you in the final leg of your creative journey. With a wide range of printing options and delivery speeds, we can help you realize your creative venture. Contact us for an instant quote for your graphic novel or comic.