Writing and drawing your own comic book is a significant undertaking, but many indie creators embrace the challenge. Due to internet speeds and illustration software improvements, webcomics and other digital comic formats have become popular in recent years.
Learning how to make comics digitally can help you realize your dream of becoming a comic book artist and speed up the creation process. Explore how to create a digital comic book, including formats to use, how to draw with digital tools, and where to publish or print your work.
How to Make a Digital Comic Book
Despite the challenges, learning how to make a comic book online is fun and rewarding. Consider the following tips for bringing your ideas to life in digital comic book form:
Write the Story First
The process for creating a digital comic book is similar to that of a traditional printed issue, at least in the initial stages. Before releasing your digital comic books, you'll need to do the prep work, develop a plot, create story arcs, and write the script.
Planning your comic is integral to creating linear storylines that make sense structurally from start to finish. Even though digital software makes it easier to change and fix panels later, it's best to rely on this for minor amendments or changes.
Laying out your script means sketching out each line of text and accompanying images in your digital program. Doing an initial layout ensures that everything you want to depict fits the desired number of pages without making the font or images too small.
Most creators start by writing a script with short descriptions of each panel. Take the time to think carefully about the format of the comic you want to write, and draw it in the correct size from the start. Resizing or moving panels is easier in digital format than on paper, but it will still waste precious time and energy if you must redo it later.
Create Artwork
After writing the narrative, you'll illustrate your comic. If freehand sketching isn't in your wheelhouse, consider hiring an artist or taking a course in Photoshop, GIMP, or other computer software for learning to draw comics online. These tools can take time to master, and you may have to grow accustomed to the features to ensure you get the coloring, shading, and digital effects right.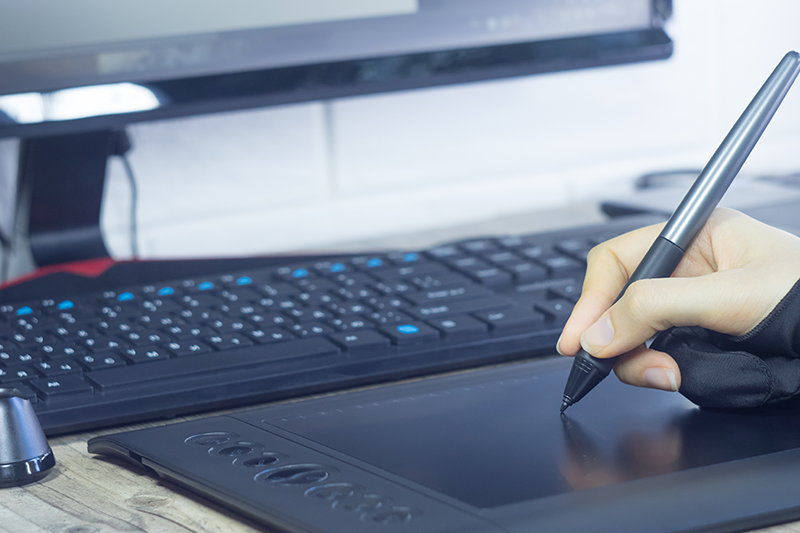 How to Draw Comics Digitally
There are two main approaches when learning how to draw digital comics: drawing sketches by hand and scanning for line art and coloring or using digital comic art software. Some artists will also line art by hand and scan it right before coloring, but many prefer the crisp, clean line art that digital methods allow.
Various illustration software programs can help you draw your art digitally. Some artists stick with tried-and-true classics like Adobe Illustrator, making it easy to use related software like InDesign or Photoshop to finalize works.
However, Clip Studio Paint, Corel Painter, and PaintTool Sai have all gained popularity recently. These options work particularly well for manga-style artists. Depending on your art style, you may find that the Adobe suite doesn't work for you. Fortunately, these software programs can now export in standard formats like PDF and PNG, so you can use whatever feels most intuitive for you.
Stick to Templates
Many indie artists use pre-made templates to maintain each page's size. You can usually import hand-drawn sketches and line art into templates, so you can still use them even if you have a hybrid approach to your illustrations.
If your preferred software doesn't work well with digital templates, you can always import the art into the template after. You can even create a template from scratch; however, you must adhere to your publisher's specifications to avoid complications if you decide to print.
Publish Your Work
Finding a home for your digital creations is the final step in the process. Depending on your ambitions as a comic book artist, there are several ways to release your content.
If you're a hobbyist who creates comics to fuel your passion, sharing your work on social media or online forums like Reddit is an excellent way to draw attention. You can join a sub like r/comicbooks and find discussions and posts on digital comics. Readers will understand that comics are your hobby, and you may get positive feedback.
Other platforms, like Comixology, are designed to digitally distribute all types of comics, including work from indie artists. However, Comixology has a quality control policy, so it will review your comics before you can sell them.
It's important to remember that going through a professional digital publication may forego some of your ownership rights. Make sure to confirm any copyright queries and profit-sharing rules before uploading your comics to a particular site.
Creating a Printed Product
Printing your comic book is a great way to get it in the hands of more readers. Some readers strongly prefer physical copies of books because they feel more authentic or because they cut down on screen time.
If you want to retain the ability to print later, partner with a printer that can deliver crisp line art and vivid colors. Printers specializing in comic book printing like Comix Well Spring can give you full-page bleeds and carefully-formatted margins for a flawless final product.
Comix Well Spring specializes in full-color and black-and-white comics. We offer various paper and size options to help you print your comic to fit your budget and visual preferences. We also make flyers, trading cards, bookmarks, tablecloths, and other products for promoting your comic.
Contact us today to learn more about our printing services, or visit our blog for helpful tips on writing, illustrating, and printing comics and graphic novels.