Creating an original comic book is a huge undertaking, but it's also an incredibly rewarding experience. Even if you are unsure how to make an original comic online but have a great story to tell and the drive to see it through, you can still create something extraordinary that will resonate with readers. The process of creating a comic book is long and arduous and includes the following steps.
Come Up with an Idea for a Comic Book
The first step in creating an original comic book is developing a great idea. This can be anything from a simple concept to a fully-fledged story arc. If you're struggling to come up with an idea, try thinking about what you're passionate about or what kinds of stories you enjoy reading.
You can also use an app or software program like Reedsy or Springhole. These programs generate plots or ideas based on your preferred genre, a character name, or a situation. They are an excellent starting point that you can flesh out with your ideas to create an original storyline.
Create a Storyboard That Lays Out the Plot and Characters
A storyboard is a rough outline of the plot and characters. It can help you track what happens in your comic book and ensure everything flows smoothly. This will allow you to visualize the plot and lay out the characters and their relationships.
To create a storyboard, draw several boxes on a sheet of paper, then label each box with a scene or event in your comic book. Then, in each box, sketch out a scene from your story. Think about how each scene fits into the overall plot as you work.
You can also use online tools to create a digital storyboard. Online comic storyboarding sites or apps like StoryboardThat let you break up the storyline into critical points like character introductions, individual story arcs, challenges, climax, and post-climactic resolution. They typically feature a drag-and-drop function that lets you easily upload digital artwork to illustrate each scene.
Make the Illustrations for Each Panel in the Comic Book
After you have a storyboard, it's time to start creating the actual illustrations for each panel in your comic book.
For the backgrounds, create a sense of place that matches the story's tone, the genre of the comic, and the action in the scene. The background is also used to establish perspective and mood. The same is true of the characters. They should be designed so readers can tell them apart easily. They should have striking costumes, defined proportions, and distinctive physical attributes.
You will also need to choose a color scheme for the comic book that sets the tone and mood of the story. You can hire someone to do this for you if you're not an artist. Several online platforms, such as Procreate and Clip Studio Paint, allow you to create digital illustrations without any prior art experience.
Write the Dialogue and Captions for Each Panel
This is where you'll bring your story to life and make it engaging for readers. Keep each character's voice in mind when writing dialogues and speech bubbles. And when writing captions, make sure they add something important to the story without being too wordy. It is more important to show the action in your comic through illustrations than tell the story with dialogue.
Before you start writing, look at your illustrations and think about what's happening in each one. What is your character saying? What are they thinking? What do you want your reader to feel? Once you know what's happening in each panel, you can start writing the dialogue and captions. Be sure to keep them concise and interesting, and use punctuation carefully to convey the right tone.
Create a Cover for Your Comic Book
The cover of your comic book is just as important as the story itself. It's the first thing that readers will see. A well-designed cover can entice readers to pick up your book, while a poorly-designed one can discourage them from even giving it a chance. To create an effective cover, you would need to:
Make sure your cover accurately reflects the tone and content of your book. If your story is light-hearted and humorous, ensure that your cover conveys that.
It should be eye-catching and visually interesting. Use bold colors and strong visuals to grab attention.
Your cover tells potential readers what they need to know about your book. Include the title, author name, and any other relevant information, such as the issue number or publication date.
Print Your Comic Book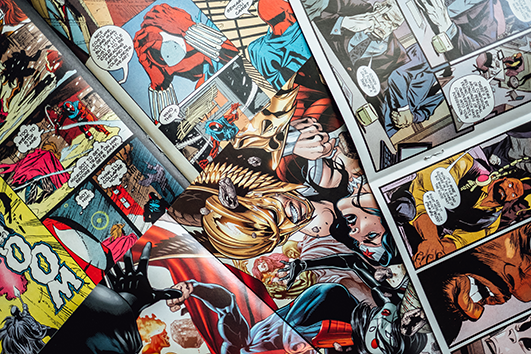 Now that you've created your masterpiece, it's time to print and publish your comic. Comix Well Spring offers high-quality printing at an affordable price, so you can bring your comic to life and get it into the hands of your fans.
We offer various comic strip and comic book printing options so that you can find the perfect fit for your project. Our team is always available to answer any questions you may have about promoting your comic on social media, selling your comics online, and choosing the best printing format.
Call us at (734) 927-0044 to get started today.