When most people think of comic books, they think of superheroes and kids, not adult-centered training manuals for the workplace. Despite the unlikely pairing of these two ideas, it has become clear from the use of comic books as educational tools in school that this medium has uses far beyond the entertainment of children and can appeal to all ages.
If you own a business or are in charge of training employees in a workplace, creating your own comic book to aid in that training is a great way to get your message across without turning to unreadable manuals or outdated videos. Discover how you can make your own comic book for occupational training and how this novel approach will benefit your workplace.
What is a Comic Book?
The basic definition of a comic book is a magazine that contains comic strips in sequential order. Comic books use dialogue, illustrated content, and stickers to bring a narrative or topic to life in the form of a great story.
Speech bubbles allow for limited words; therefore, comic books often focus on drawing and design elements like the layout of its panels, color, and style to highlight the story and theme. According to the Author Learning Center, a comic book is not a genre, like a superhero or horror story, but rather a medium through which writers and illustrators present a message.
Comic Books as Training Tools
Typical workplace training includes Word documents, videos, and PowerPoint presentations to convey a company's vision, mission, and values and educate employees about everything from workplace discrimination to industry-specific protocols.
Comic books can also be used to train and educate people in the workplace. It is well-documented that comic books and graphic novels in the classroom provide models for literacy and help reach students who otherwise can't or don't want to pay attention. The same principles may apply to adults or teens who have to attend job training sessions.
In addition to presenting workplace information in a relatable, fun, and easy way, opting to make your own comic strip or comic book style presentation is beneficial in the following ways. Most importantly, it:
Encourages employee interest in the training topic
Promotes an emotional tie-in through narrative and art
Facilitates topic-relevant discussions through an alternative medium
Helps reach various adult learning styles
Conveys important company messages in a unique format
Can present difficult topics in a non-threatening manner
Remember to include successful workplace training techniques along with your comic book. For instance, invite veteran employees to summarize the comic book information when training new employees. Work actionable goals for employee training sessions into your comic book.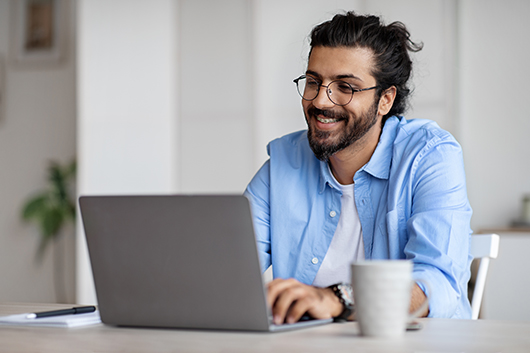 How to Make Your Own Comic
To create your own comic book or comic-inspired training material, it is helpful to break down the process into several steps.
Identify Your Topic
Your first step toward making your own comic book is to identify your topic. In the case of workplace training, you'll want to think about which part of the training you would like to address with your comic. Will you use a short character-driven narrative to highlight appropriate workplace behavior or opt for a comic book to tell the quirky story of how the company got started? Or maybe you want to create an ongoing comic strip featuring a mascot character that answers new employee's FAQs. The possibilities are endless in this regard as long as you use creativity in your approach.
Choose a Format
Next, comic creators must choose a format for delivery. A comic book is a longer format that features several pages, unlike a comic strip, making it suitable for incorporating a large amount of training material.
A saddle stitch book can hold between 8 to 64 pages, so it is perfect for shorter topics, while a more involved topic might be better suited to a square-bound comic book. Of course, you can also supplement your training with helpful comic book posters that you hang on your office walls to remind employees of what they learned in training.
Write Your Comic
To write your comic book, keep your topic in focus. Also, consider what type of employee your comic will be used to train. For new employees, use non-industry-specific language with a welcoming tone. For existing employees learning a new protocol, opt for jargon specific to your workplace and insider information that will foster a sense of camaraderie. Use your imagination and try to convey information that your employees can use daily.
Illustrate Your Comic
To illustrate your comic book, you have several options. If you have the skills, illustrate the comic book yourself, or better yet, enlist the aid of employees or management personnel with drawing capabilities. You can use many helpful tools and resources like stencils, comic strip templates, printable comic book templates, or a Comic Book kit to make the task easier if you're not a skilled comic artist.
You can also consider hiring professional artists for the project. Alternatively, you can use programs like Adobe Illustrator or Canva to create your illustrations. Consider your style and color scheme. If your company has a logo, try to work in the colors from it into your illustrations. Make sure to keep your illustrations professional and workplace-appropriate.
Finalize Your Comic
The last step before printing your comic book is to finalize and format your work. If you own your own business, pay for an editor to look over your work to catch any errors before printing. If you are creating the comic book for your employer, make sure to get their final approval before sending your comic book to the printers.
Printing Your Comic Book
The last step to making your own comic book is to get it printed by a professional printing company specializing in comic books like Comix Well Spring. Once on our website, you will be directed to choose your format and printing specifications.
Ensure a smooth printing process by making a list of the print specifications for your project, including the size and type of paper you want your comic to be printed on. After you fill out these details, you'll place your order with Comix Well Spring, and after a short time, your finished comic book will be mailed directly to your specified address.
Work With Comix Well Spring
Comix Well Spring boasts a wide variety of printing options for your comic book training documents. You can choose from posters, saddle stitch or square-bound books, posters, or flyers to aid you in training new and current employees. Check out our selection of products online and decide which option works for your needs.
Then get in touch with us via our contact form or message customer support through our website with any questions you have. Printing with Comix Well Spring is easy and convenient, and you'll end up with professional-looking documents that will make workplace training fun.