Comic books have traditionally been printed with saddle stitch staple binding and offset printing to get them into the hands of millions of people. As printing services have improved, high-quality printing has become even more affordable.
Digital printing has made it easier than ever to print your comic book or graphic novel by minimizing file setup costs and time required. Even perfect binding and full-color printing are accessible for new indie creators. You can choose a format and printing option that suits your story and your target demographic's budget.
There are more reasons than ever to order a print run of your comic, whether you're working on a long-running sci-fi epic or a short memoir comic. Printed copies are preferable to online ebooks for several reasons, including collectibility and reduced eye strain.
Easy-to-Read Format
Comics that are formatted to read on mobile devices have spiked in popularity in recent years. However, it can be difficult to appreciate an artist's skill and attention to detail at such small sizes. You may end up being restricted in the types of panel layouts you can use if you have to optimize your art for mobile.
Standard-sized comic books provide over twice as much viewable area as a smartphone screen, and magazine-sized comics provide even more. This creates a much more rewarding experience for readers, with detailed artwork or a lot of text. Modern printing processes can handle subtle color gradients, crisp text, and edge-to-edge printing for a beautiful finished product.
Many readers want to take a break from staring at a screen. Having a printed book allows them to read more comfortably, especially if they're concerned about eye strain. This makes an even more noticeable difference when enjoying longer graphic novels.
Reaching a Broader Demographic
Online comic formats are great for reaching various age groups, especially since they're easy to advertise via social media. However, getting your comic book or graphic novel into as many hands as possible requires you to have printed copies available.
This is especially true for graphic novels. Many fans don't have the time to keep up with a longer series online and instead buy individual volumes once they are completed. Perfect-bound books, also known as square-bound books, are ideal for compiling a full story or several chapters of a longer work with higher page counts.
If you're worried about cost, remember that you can tailor your printed volumes to your target audience's budget. Many black-and-white or grayscale comics are printed on uncoated paper for interior pages, which are naturally less expensive than full-color gloss.
Selling at Conventions
Having a web-based comic is nice for social media, but it makes it harder to get attention at conventions. Fans like instant gratification, so having printed copies available at an artist table at a comic convention can get their attention.
You can also make signed copies of your books, full-color posters, and other merchandise available as well. Even if you don't have a lot of name recognition yet, making a personalized connection with fans goes a long way. Fans may soon forget about comics that they read online, but they won't forget a series anytime soon if they own a physical copy and had a conversation with the author at a convention.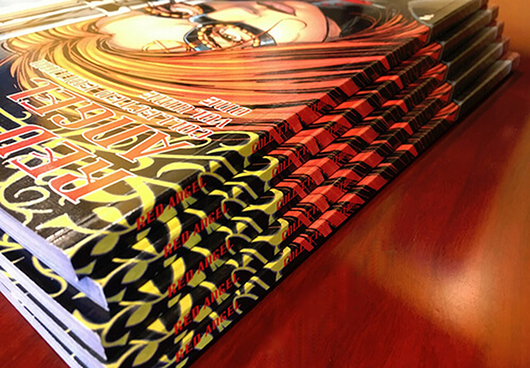 Collectible and Permanent
Webcomics are convenient to access from anywhere, but the author can take them down at any time. Even purchased eBooks aren't a perfect solution, especially since their file formats can become obsolete.
Physical comic books are still the preferred option for serious collectors who want a permanent copy of a story. They're also regarded as a way to show material support for an author, so serious comics enthusiasts will often buy stories they want to continue.
There's also an aesthetic element that drives collectors to still seek out physical books. Many comics enthusiasts enjoy collecting a high-quality, gloss-covered comic book that they can hold and turn the pages of freely. Ebooks and web comic apps can't replace the reward of holding someone's hard work in your own hands.
Partnering with the Right Printer
Printing a comic book is much easier and gives you better results if you order from a company specializing in comic book printing. Comix Well Spring specializes in full-color printing but can accommodate a variety of comic book types and formats to make your dream project a reality.
We offer both perfect-bound and staple-bound printing in sizes up to 9" x 12". We also print bookmarks, posters, business cards, and other marketing must-haves so you can make your impact on the comic book industry even as an independent creator.
Our online printing order form makes it easy to place an order. We provide templates and formatting tips and send you a digital or physical proof to double-check your work before finalizing your books. Call us at (734) 346-7864 with any questions about your order.