Comic book creation involves bringing your ideas to life using various design elements and creative writing. In some ways, comic book writing is the same as other forms of storytelling.
It starts with a basic premise, and the story develops using central and supporting characters, an engaging setting, conflicts, and striking visuals. However, the key differences between comics and novels are formatting and structure.
Comic books have limited space for speech bubbles and text boxes, so they rely on strong visuals and clear text to ensure the reader understands the storyline and the overarching message. Budding comic book artists often struggle with this aspect of comic book creation and fail to get a feel for the layout and flow.
Using comic book templates or comic creator software is an excellent way for amateur artists to grow accustomed to the process. Veteran writers can fall back on a comic template if they struggle with specific design elements. Use the free comic book templates such as Adobe Express or Canva to help you become a better comic strip maker and artist.
What Makes a Great Comic?
Comic strips can be found all over the internet. Most people enjoy reading comics for their complex stories, interesting characters, and book illustrations. However, not all comics are created equally. So what exactly makes a great comic?
A great comic tells a captivating story. A well-written story can attract readers with complex plot lines, in-depth story arcs, and lovable and loathsome comic book characters. Relatable characters remain with readers long after reading the comic strip.
A great comic should also have book illustrations that support the story and propel the action along with dynamic movement and vibrant colors. However, black and white comics create a stark contrast between light and shadow that can help create a sense of nostalgia or foreboding that works well for noir or horror genres.
Creating Digital Comic Books
In the past, comic book authors had to rely on traditional pen and paper methods to create their comics. Creating speech bubbles, speech balloons, comic strip illustration sequences, and other design elements by hand was a tedious process. However, with the advent of digital technology, it is now possible to create digital comic books. This new medium offers several advantages for authors and readers.
For authors, digital comics are much easier to create and edit than traditional comics and graphic novels. A digital comic generator offers several customizable elements, such as panel layouts and character designs, that can be used to create a unique look for each comic.
For readers, digital comics are more convenient to read than traditional comics. They can be read on various devices, including computers, smartphones, and tablets. Digital comics are often less expensive than conventional comics, making them more accessible to younger readers.
If you're interested in creating a digital comic, there's no need to hire a professional designer. Amateur artists can create digital comics for a minimal cost using free comic strip maker tools and comic book layout templates. Here are three critical steps in developing digital comic books from the comfort of your own home.
Idea Generation
Coming up with a comic strip idea can be challenging, especially if you want to find something original and appeals to a wide variety of comic book readers.
One way to develop ideas is to think of concepts that haven't been explored before in other comics. This can be anything from a new twist on a classic superhero story to a completely original idea for a new character. Once you have a general concept, you can start fleshing out the details of your story.
Another way to come up with ideas is to look at real-world events and think of ways to translate them into a comic book storyline. This could be anything from a natural disaster to a political scandal. By taking inspiration from current events, you can ensure that your storyline is relevant and engaging.
A good comic strip idea doesn't have to be complicated. Sometimes the best ideas are the simplest stories, so don't be afraid to go back to basics. A classic example of this is the concept behind Garfield. All it takes is a relatable character and some clever dialog.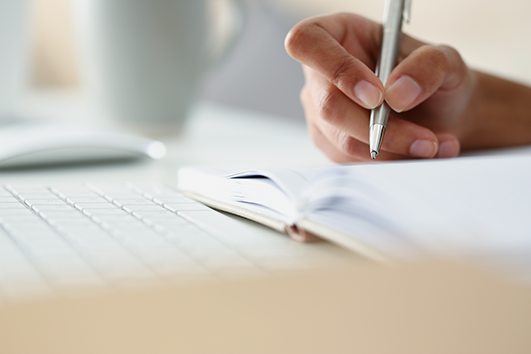 Write the Story
In a comic-style book, the panels are used to tell a story. The story progresses from beginning to middle to end, with each panel representing a different moment in time. To create a comic-style book, you will need to come up with a story that can be told using panels.
To do this, think about what kind of story you want to tell, and then begin planning the sequence of events. Keep in mind that each of the comic book panels on the page should advance the story in some way and that the order of the panels is important.
Once you have a basic story outline, you can start thinking about how to represent each scene visually. Remember to focus on creating an engaging and visually appealing comic-style book that captures your reader's attention from beginning to end.
Use Comic Strip Templates
It's never been easier for new comic book artists to create and publish their work. Free comic strip template generators online can help you arrange and structure your creations in the best way possible and bring your comic to life. You can experiment with different layouts before determining the right fit for your work.
A comic strip creation website typically offers an extensive library of comic strip templates that can be used to create strips and images in various styles. A good comic maker tool allows users to select a template, add text, incorporate images, and even share the comic strip with others.
At Comix Well Spring, we provide a wide range of products and services for comic book artists. You can access high-quality comic printing templates from our website free of charge. We offer a selection of functional layouts in several sizes, including standard, magazine, and CWS manga. These templates can be downloaded directly and customized using PDF editing software like InDesign or Illustrator.
Printing Your Artwork
If you want to print physical copies of your digital artwork, Comix Well Spring can also handle your professional printing requirements. We operate an easy-to-use ordering system that ensures your prints are ready in three simple steps.
Input your order details, including information like:
Title and issue number
Print size (custom options available)
Print size (custom options available)
Interior paper
Centerfold options
Artwork
Turnaround time
All artwork can be uploaded using an embedded file transfer link on the order page.
Next, we'll send you proof of the work for pre-print inspection. Although this step is optional, we recommend that all artists check their work one final time, ensuring there are no errors or issues.
Once you are happy with the proofs, you can confirm your order and wait for your comics to arrive.
Publish Custom Comics With Comix Well Spring
Creating a custom comic is a dream come true for many budding artists. Partnering with an experienced comic book printing service like Comix Well Spring can elevate your custom prints to a professional standard. Our free templates make the design process as straightforward as possible.
Our low order minimum of 25 copies makes us the perfect printing company for upcoming artists. Contact us today via our online form for more information on our products or services.